Good question.
A Broadway star to be sure. She originated the part of Maggie in Tennessee Williams' Cat on a Hot Tin Roof. She starred for years in Jean Kerr's Mary, Mary.
But she also made films, although not many (her entire career covers just 33 movies and tv credits). But what films she did make!
Here she is, for example, as Katrin Hanson, the daughter of Norwegian immigrants in 1948's I Remember Mama, for which Bel Geddes was nominated for an Oscar.
Then there was 1950's Elia Kazan thriller, Panic in the Streets in which she plays a dutiful Nancy Reed, military wife to costar Richard Widmark.
Despite her Broadway performance, the role of Maggie was played in the 1958 version of Can On A Hot Tin Roof by Elizabeth Taylor. Similarly, the showgirl role Bel Geddes played in The Sleeping Prince on Broadway went in the 1957 movie version to Marilyn Monroe.
But who can forget her smart, sympathetic portrayal of Midge, the unglamorous, still-faithful ex-fiancee of James Stewart in Alfred Hitchcock's 1958 thriller, Vertigo. Bel Geddes is totally sympathetic in the role, exuding a quiet sexiness topped off by a sharp, observant intelligence.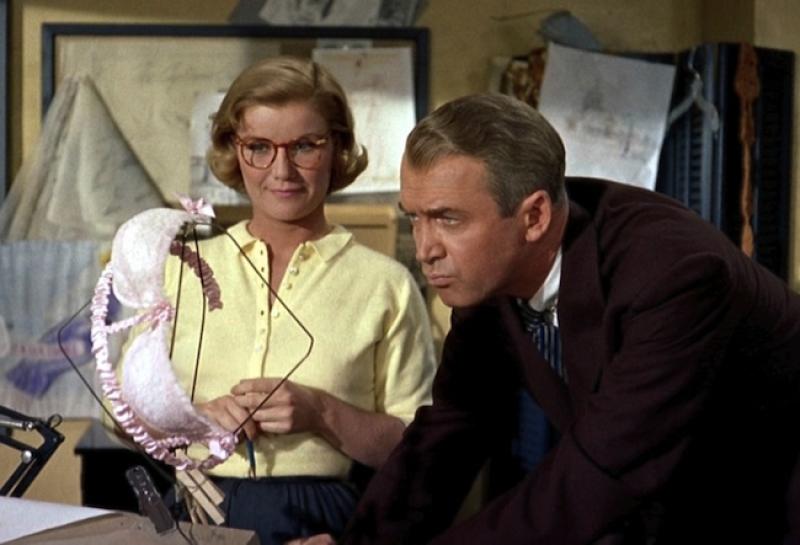 Bel Geddes flourished in tv roles especially on Alfred Hitchcock Presents. In one 1958 episode, titled Lamb To The Slaughter, she plays a wife who murders her philandering husband by bludgeoning him with frozen leg of lamb. She then serves the lamb in a home-cooked dinner presented to investigating detectives.
Bel Geddes as Miss Ellie most famously flourished in another tv series, Dallas, in two stints: one from 1978 to 1984 and the second from 1985 to 1990. Donna Reed took on the part for a short period after the first interval, and sued when Bel Geddes was reinstated in 1985. (Reed lost.)
Bel Geddes had her share of late career health difficulties. She at various times underwent heart surgery, a radical mastectomy and died of lung cancer in 2005 at the age of 82.
They're always making me play well-bred ladies, she said in 1982. I'm not very well bred, and I'm not much of a lady.