In Classic Hollywood, when a star's career was on the wane, he or she often found themselves at Republic Studios, one of the colony's lesser-ranked production factories.
But, interestingly enough, often that mid-level studio would produce an "A" movie and surround that star with a great supporting cast. Case in point is director Nicholas Ray's Johnny Guitar from 1954.
First there is, of course, Joan Crawford.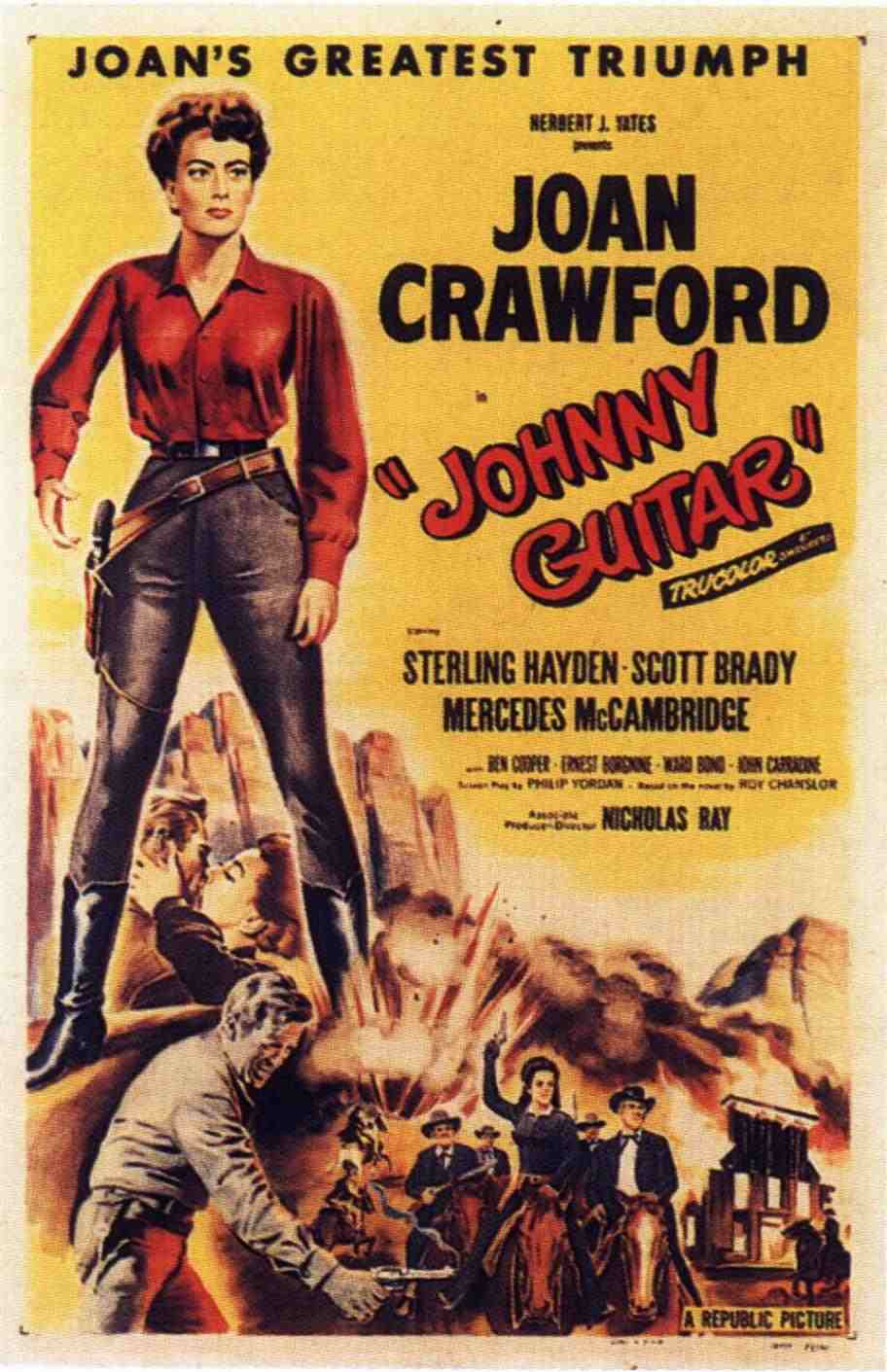 Then, there is Sterling Hayden. He was a strapping, handsome lad. (There he is above, in 1941, when he was tabbed "The Most Beautiful Man in the Movies.") He was once sought after for the role of Tarzan.
Hayden always considered himself primarily a sailor, who accidentally got into the movies in the early Forties, and married his leading lady (Madeleine Carroll). He took to the sea as a teenager, circumnavigated the world several times and was molded into a respected ship's captain by his early 20's. Then came the movies.
Today, he is remembered for his roles in some of the best movies ever made: as the deranged colonel in Stanley Kubrick's 1963 black comedy Dr. Strangelove; as the horse-loving heavy in John Huston's 1950 noir, The Asphalt Jungle; as the efficient thug in Kubrick's 1956 thriller The Killer; as a corrupt cop in Francis Coppola's 1972 classic The Godfather; and as a peasant patriarch in Bernardo Bertolucci's majestic Italian costume drama 1900.
The strapping six-foot-five Hayden was an actor whose best acting performances were unearthed later in his career. His offscreen life is interesting, weighing his love for sailing with his rocky negotiation of Hollywood's infamous blacklist period.
And let's not forget Mercedes McCambridge, who managed the rare feat of winning a best supporting actress Oscar for her 1949 movie debut (in All The King's Men), and successfully worked in a wide range of big screen efforts and tv programs from the 1950's through the late 1980's. (She died in 2004, at age 87.)
And, among her movie credits is the costarring stint in Johnny Guitar, which left her with an abiding distaste for Crawford. (Does the line form to the right?) McCambridge and Crawford intensely disliked one another, and fought constantly during the making of the movie.
And, there's Scott Brady (center below)…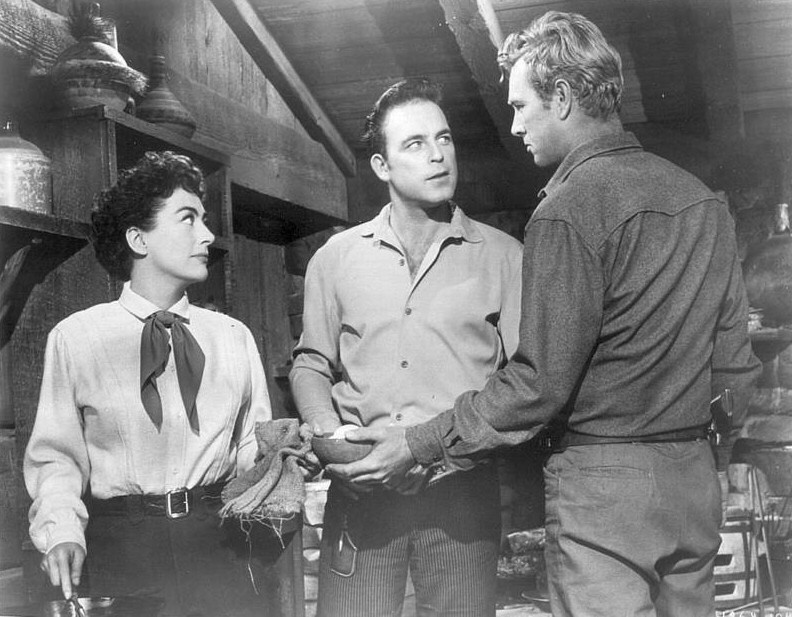 And Ernest Borgnine (pre-Marty)…
Toss in Ward Bond, John Carradine and Ben Cooper, as well as a then name director (Ray) and you have an impressive lineup — rolled out by Republic to surround a slipping star.
Indeed, what a cast.