How much did you know about Vincent Price's early career in films? Although he seldom got the girl he starred opposite some of the most beautiful women in Hollywood.
Price also played early in his career a wide-range of character types:  a gum chewing gangster on the London stage, royal stalwarts in historical costume dramas, and, under Orson Welles' tutelage, Elizabethan parts in The Shoemaker's Holiday and meaty roles in George Bernard Shaw's Heartbreak House. He was a 'serious' actor.
By the late Thirties he landed in Hollywood where he was given varying types of roles in a panoply of pictures running into the late Forties. As British critic David Thomson writes, Price was required to be effete, caddish , insolent, malicious or weak.
His career in the late Forties and Fifties drifted a bit after moguls determined that — He was not mean enough. But then Price's horror period began with Andre de Toth's House of Wax. The die was cast.
It's been noted that many of his horror adventures for various sponsors combined elements of ham and humor. Catch price's performance in 1973's Theatre of Blood.  He plays a Shakespearean actor who murders nasty drama critics by repeating some of the Bard's meaner onstage deaths.
On to the answers to our Quiz about Price's pre-horror work:
1) Question: This lavish 1939 Warner Bros. costume drama about love among royalty features Price (below) as Sir Walter Raleigh.  The title of the film is……..
1) Answer: Director Michael Curtiz's The Private Lives of Elizabeth and Essex. Price is in good company with costars Bette Davis and Errol Flynn.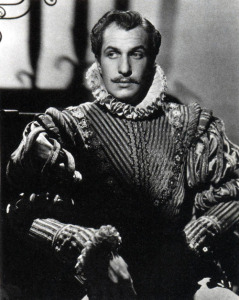 2) Question: That's Price below in a 1950 historical drama, this one directed by Sam Fuller and set in the Wild West. The actor stars as a land-grabbing scoundrel who almost pulls off the takeover of a whole state.  The name of this movie is…….
2) Answer: The Baron of Arizona.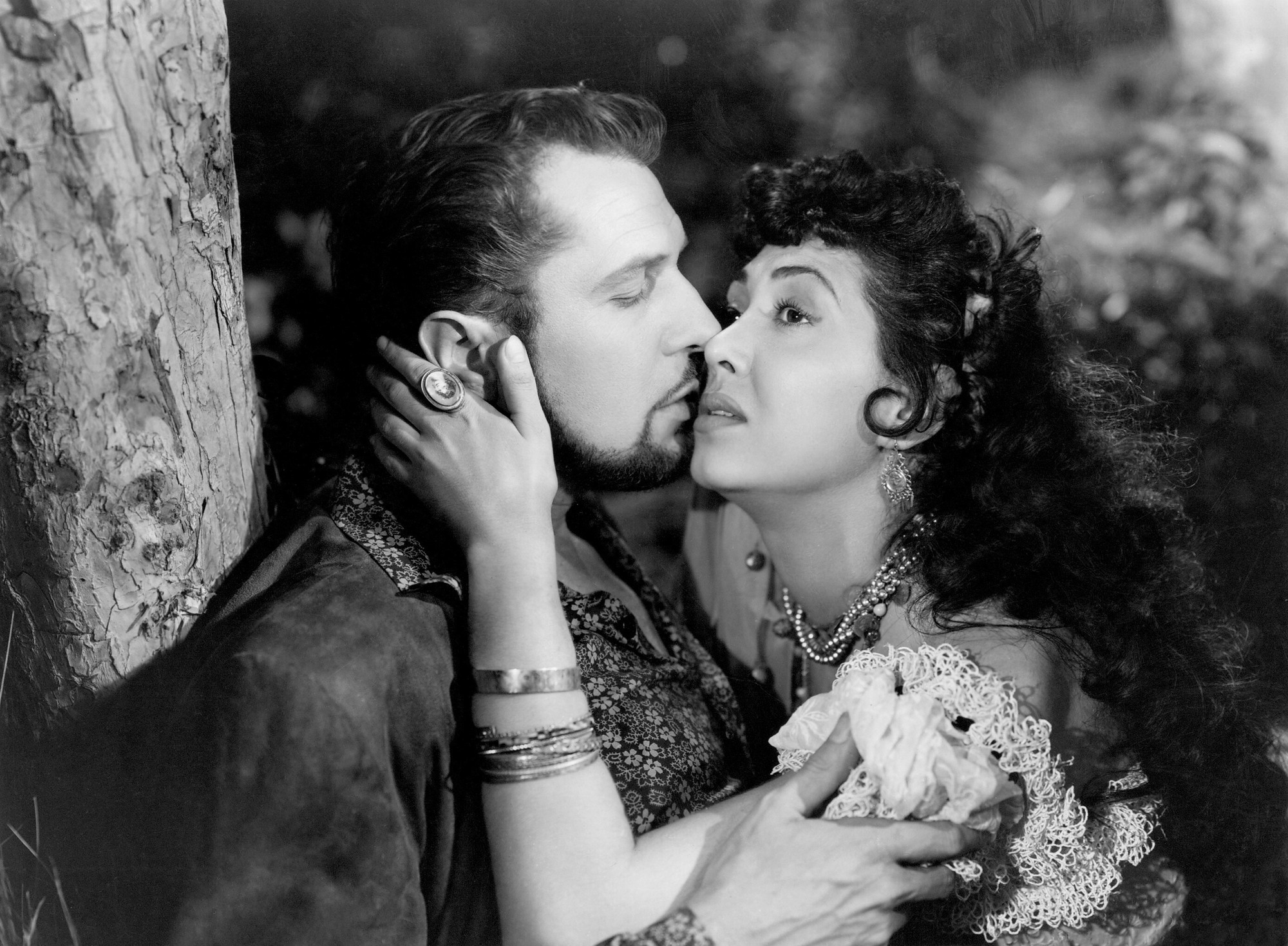 3) Question: Price finds himself surrounded by the sulfurous couple of Jane Russell and Robert Mitchum in this 1951 outing directed by John Farrow.  Price (below) is perfect as a ham actor who finds himself caught up in an action thriller.  Its title is………..
3) Answer: 1951's His Kind of Woman, an entertaining thriller.  Catch it.
4) Question: In one of his most notable roles, Price plays the befuddled paramour (below) of a woman who casts spell on a detective investigating her murder. This 1944 film noir is….
4) Answer:  This, of course, is Otto Preminger's Laura starring in the title role Gene Tierney (that beautiful actress who shares with Price the picture at the beginning of this blog).
5) Question: Did you know that Price worked under the direction of horror-master Alfred Hitchcock? (Price is at the top in the gag photos below and actor James Gregory in the middle). What was the vehicle for their collaboration?
5) Answer: Television. Price never was seen in a Hitchcock movie, but appeared on the director's immensely popular tv series, Alfred Hitchcock Presents.