Yes, long before he became the star of horror films he logged quite a career as a leading man and supporting player.
In our book it's always the season for Vincent Price. (Next month happens to mark the 25th anniversary of Price's death of lung cancer in 1993.) But how little we seem to know about the earlier 'pre-Scream' period of his career.
Price was a mini-man-for-all-seasons, an art and antiques aficionado, gourmet cook, author,  art adviser to Sears Roebuck, television personality and voracious bon vivant. He married three times, the last to actress Coral Browne. Still, rumors of Price's bisexuality made the rounds of Hollywood until his death.
What matters to us is how much we have enjoyed his solid and sometimes tongue-in-cheek performances in a wide range of films, including, of course, all those  horror outings in the Sixties and Seventies for producer-director Roger Corman and for the aggressively exploitational American International Pictures.
Price's career actually began in the late Thirties. Born in 1911 in St. Louis, Mo., he studied art history at Yale, before appearing in London and Broadway stage productions including The Shoemaker's Holiday and Heartbreak House, both staged by Orson Welles' Mercury Theater.
In his legitimate theater days, Price took himself very seriously, and believed he was an actor of sufficient ability to earn shots at leading Shakspearean roles such as Hamlet. As quoted in Orson Welles and Roger Hill: A Friendship in Three Acts  by Todd Tarbox, Welles said he felt Price was "very bitter against me" because he didn't get those big parts.
He thinks I destroyed his entire career. I don't think he felt this way until later in his life when he had to find a reason why he was still making terrible horror movies at the age of sixty.
Ok, well, on to our early-Vincent Price Quiz.  We'll provide the movie clues, you provide the names of the pictures.  (Answers tomorrow.) Here we go:
1) Question: This lavish 1939 Warner Bros. costume drama about love among royalty features Price (below) as Sir Walter Raleigh.  The title of the film is………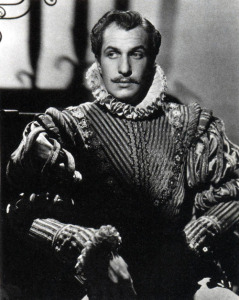 2) Question: That's Price below in a 1950 historical drama, this one directed by Sam Fuller and set in the Wild West. The actor stars as a land-grabbing scoundrel who almost pulls off the takeover of a whole state.  The name of this movie is…….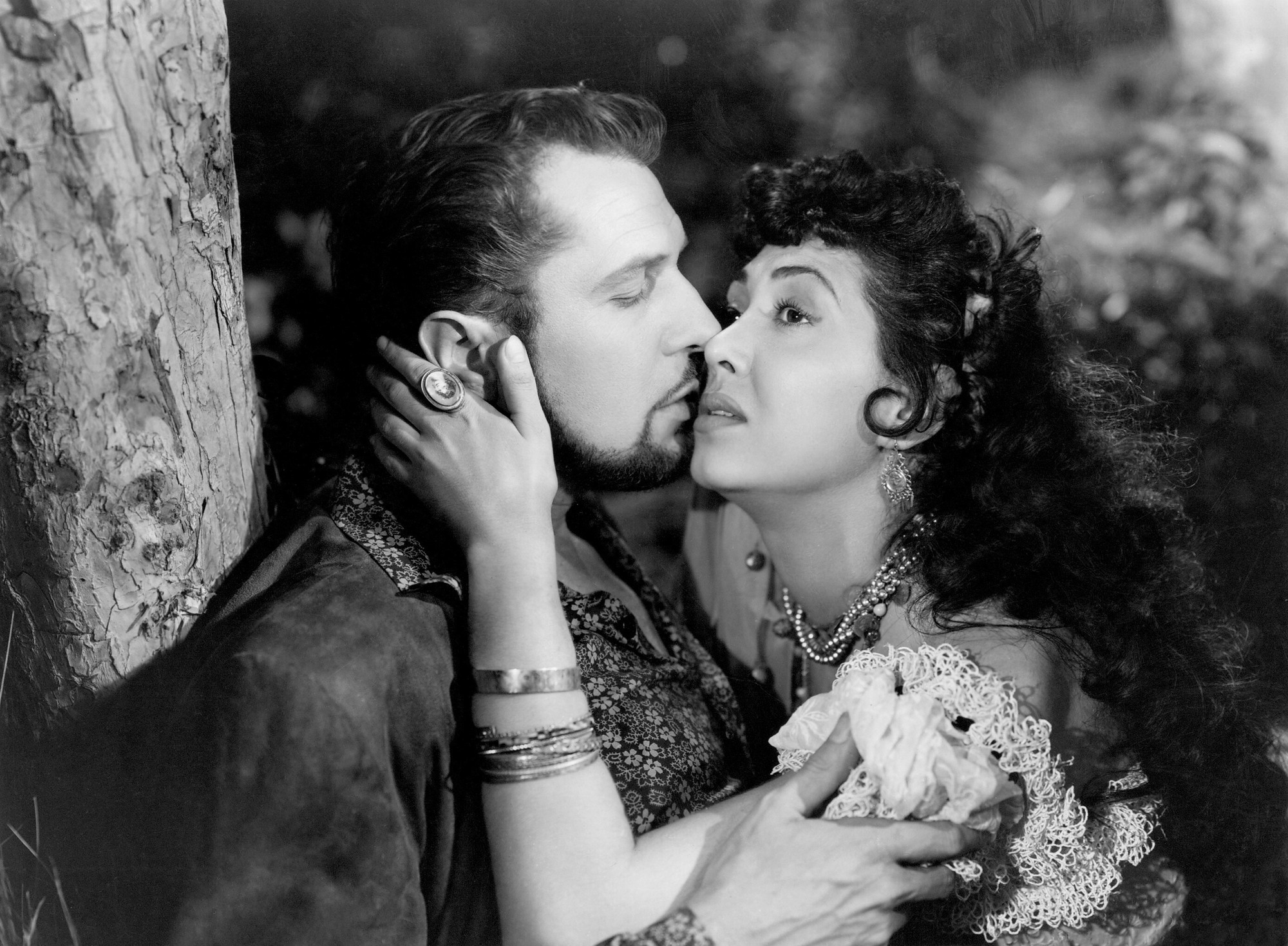 3) Question: Price finds himself surrounded by the sulfurous couple of Jane Russell and Robert Mitchum in this 1951 outing directed by John Farrow.  Price (below) is perfect as a ham actor who finds himself caught up in an action thriller.  Its title is………..
4) Question: In one of his most notable roles, Price plays the befuddled paramour (below) of a woman who casts spell on a detective investigating her murder. This 1944 film noir is….
5) Question: Did you know that Price worked under the direction of horror-master Alfred Hitchcock? (There's Hitch on the bottom below, Price is at the top and actor James Gregory in the middle). What was the vehicle for their collaboration?