There is no doubt that the most famous Hungarian immigrants to the U. S. to conquer Hollywood were Magda, Eva. and Zsa Zsa Gabor.
Shepherded by mother Jolie, the trio invaded Hollywood after World War II, leading the late tv talk show host Merv Griffin to write: They burst onto the society pages and into the gossip columns so suddenly, with such force, it was if they'd been dropped out of the sky.
In fact, the sisters stemmed from a Hungarian Jewish back round, in Budapest, born two years apart from 1915 to 1919.
For those keeping score, the oldest of the trio was Magda (seen upper right above). Zsa Zsa (seen at upper left) was the middle sister follow by Eva (seated at the piano), the baby of the three. All three were strikingly good lookers yearning for Hollywood movie careers.
Zsa Zsa became was the biggest star. Magda never made movies, but married a movie star. Can you guess who?
Both Zsa Zsa and Eva made films and were celebrities on TV. If you don't associate them with classic movies think of Moulin Rouge and Lili for Zsa Zsa and Gigi for Eva.
All three has super busy marital careers — Maga made six trips to the altar, Zsa Zsa was married a whopping nine times and Eva five.
One of Zsa Zsa's husband was British born actor George Sanders. They appeared in RKO's 1956 crime drama Death of a Scoundrel. The interaction and byplay between the two is most entertaining, as is this picture as a whole. Highly recommended.
Sanders married Zsa Zsa in 1949, her third husband. The divorce came five years later preceded by some reasonably wild antics. We cannot resist retelling this story to make the point, quoting from a letter scriptwriter-director Nunnally Johnson wrote to a Hollywood pal in early 1954.
Seems that Zsa Zsa was prickly about reaching a final property agreement as part of the couple's divorce settlement. She kept upping the ante at the last minute, demanding more and then still more, which irritated Sanders. "But he figured it wouldn't be difficult to get something on her," wrote Johnson.
At the time Gabor had taken up with Dominican playboy-diplomat Porfirio Rubirosa — a notorious womanizer said to have been exceptionally well endowed. Sanders came up with the idea of catching Zsa Zsa in flagrante delicto with Rubirosa (known as simply "Rubi") at the Bel Air residence they shared.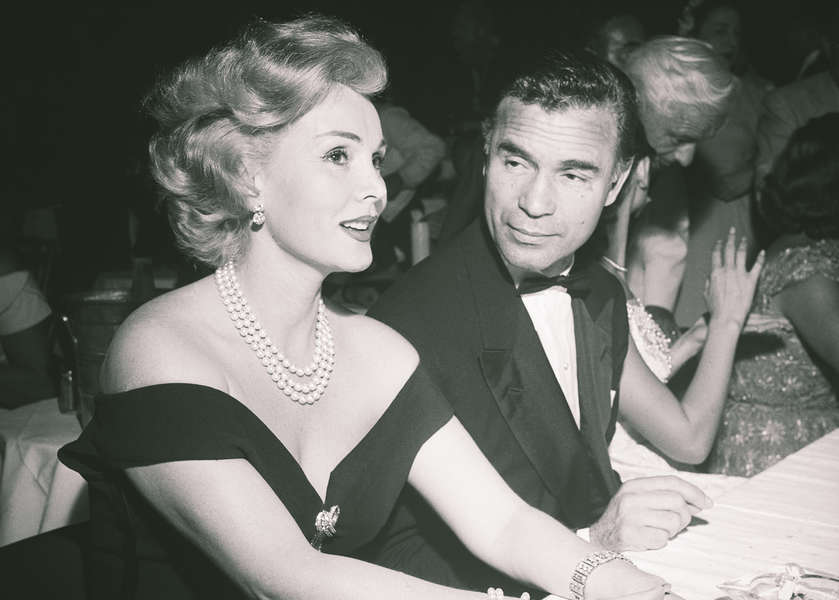 Wrote Johnson: So on Christmas Eve, that holy day, (Sanders) prepared to raid her home to catch Rubirosa in the hay with her." Somehow George managed with the help of four private detectives to hoist a ladder to a second-floor balcony outside Gabor's bedroom, and to actually climb up and into her boudoir.
Johnson recounts what then happened: (There) he saw two naked forms break the record for the dash to the bathroom, where the light was on… Rubi and Zsa Zsa had slammed the door shut but in their excitement they forgot it could also be locked.
The door opened inward and then it became a head-on push between George and Rubi, Rubi trying to hold the door shut, George trying to bull it open.
Now, according to George, he was hitting low, just like Knute Rockne always said, and with a powerful lunge he managed to get the door open about a foot, which to his astonishment brought him face to face with Rubirosa's organ, whereupon, in a moment of whimsy, he shook it heartily and called Merry Christmas to them both.
'Now, George, really!,' exclaimed Zsa Zsa. 'Please be seated and I'll be out in just a moment.'
She emerged in a diaphanous negligee, leaving the shy Mr. Rubirosa skulking in the can. Johnson's letter goes on to note that Zsa Zsa employed her charm to calm the situation, even showing Sanders and his gumshoes the living room Christmas tree and inquiring of Sanders if he had received her gift.
Sanders and entourage exited through the front door, handshakes and exchanges of "God bless you's" all around.
Finally, in answer to our question posed above, it was the same George Sanders who would up marrying Magda some 15 years after his departure from Zsa Zsa. (It lasted a about a month.)