You might not remember him, or the few films he made in the 1940s, but William Marshall had some life!
He first married Michele Morgan.
His second wife was another French beauty, Michelline Presle.
His last was the distinctly American Ginger Rogers.
MAKING GOOD ON FRED CLARK — We belatedly realized that we did not include answers to our informal quiz on character actor Fred Clark (our blog of Friday, Feb. 19). So, we'll provide answers here.
Below are photos of Clark in various character modes. Can you identify the films?
Hint: He plays a fulsome movie producer above in the company of the likes of Gloria Swanson.
Answer: Sunset Boulevard.
Here's Clark confers with James Cagney in this 1949 prison drama. His advice proves dubious.
Answer: White Heat.
Clark as a medical professional above defers to his smoothie side in this drama starring Joan Crawford.
Answer: Flamingo Road.
That's Clark (above right) in the dubious company of Montgomery Clift in this 1951 drama.
Answer: A Place in the Sun.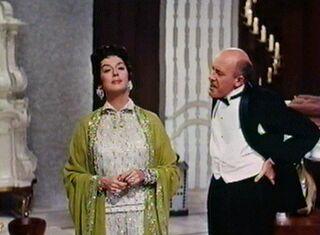 And that's Clark trying to explain something, anything, to Rosalind Russell in this 1958 big screen adaptation of a Broadway musical.
Answer: Auntie Mame.
Finally, Clark was superb as Harry Morton in this early Fifties tv series costarring the guy to the right above. (Answers to all inquiries above on Monday.)
Answer: The George Burns and Gracie Allen Show.
Clark piled a lot of work over a short career. He died of liver failure in 1968 at the age of 54.