Over the years two of our blogs seem to get the most responses. And guess what: they were both originally posted over 9 years ago!
We once said that Susan Hayward was the most forgotten BIG star of the 1940s and 50s. Boy did we hear from her fans. And since that post is still out there we still occasionally hear from folks who champion Miss Hayward.
Just recently "Clay" wrote:
Let's be honest. First, Susan is one of my top 5 favorites! A beauty and terrific actress (I don't know why these days people seem ashamed to use the word actress; everyone has to be a "actor': so stupid.
But in today's world she doesn't receive the credit she's due and the remembrance she deserves. Davis and (Joan) Crawford are remembered and deserve to be. My favorite television channel is TCM and they even seem to short-change Susan.
I hope someone, somehow starts a campaign to give the great SUSAN HAYWARD her much deserved recognition.
Well Clay, you are not alone. Like many others who research Hayward you hit on our old blog from 2011. Why not settle back and read what we wrote then? Here goes:
In a recent blog — "Susan Hayward — Forgotten Star?" — we wrote that although Hayward was popular in the late Forties and Fifties, she is a largely "who dat?" today. We later ran reader Philippe Elan's comment that took us (mildly, thank heaven) to task with his opening line, "happy to disagree on the fact that Susan Hayward is a forgotten star."
We were delighted to receive Phillipe's defense of the actress. But we also pointed out that although such Hollywood luminaries as Rita Hayworth and Lana Turner may not be household names today to those under 40, their respective films — eg. Gilda and The Postman Always Rings Twice, among others — are so good that both actresses are assured cinematic immortality.
Did Susan Hayward make films as good? We said and say — no. Thus, her largely forgotten status today.
But reader "iarla" gracefully disagrees, and e-mailed us the following wide-ranging and thoughtful consideration of Hayward. We like it so much that we just had to let you in on the exchange. So here's "iarla."
It's true that Edythe Marrenner (Hayward's real name) is unfortunate in that none of her movies are as well revived as say, Lana's "Postman" or Rita's "Gilda".
She is simply unlucky in that none of her films achieved cult status, with the sole — startling — exception being "Valley of the Dolls", and it is screened today for reasons other than Hayward's contribution. (See below. That's Patty Duke on the left.)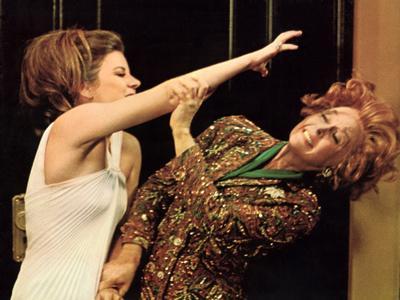 Although this was possibly the most commercially popular film Hayward ever appeared in, its not exactly a prestigious credit for any of its participants. Although, female audiences loved Hayward back in the Fifties when she was considered a "strong" actress as well as a box office star.
Though critics were not always as impressed, and I recall Hayward being unflatteringly referred to as a "bargain basement Bette Davis"( ! ).
(The late film critic) Pauline Kael, while enjoying the earlier Hayward of (director Harold Clurman's 1946 murder mystery) "Deadline at Dawn" felt she had "slipped" considerably by the time (1955) of (Daniel Mann's biopic of singer Lillian Roth) "I'll Cry Tomorrow."
It's as if certain performers, who start out as starlets, become almost embarrassed and self-conscious and unfortunately mannered when they strive to be taken 'seriously' as dramatic actresses.
But I've always wondered why 'actressy' types date badly in comparison to the glamour queens, such as (Norma) Shearer and Louise Rainer versus (Jean) Harlow and (Marlene) Dietrich in the Thirties, or (Greer) Garson and Jennifer Jones against Rita and Lana in the forties.
Maybe its the sense of 'fun' and approachability that's lacking.
Hayward never had the good fortune to become a cult figure. Also, although her private life was rather tempestuous, and covered as such by the media at the time, there was always a brittle, cold quality to the private Hayward image as opposed to the more inviting, vulnerable qualities emitted by some of the sex symbols like (Kim) Novak or (Marilyn) Monroe in the Fifties.
Changing fashions dictate public tastes and interests, and Susan Hayward is simply not in the public consciousness. Oftentimes, clotheshorses like Lana or Rita are referenced as emblems of classical Hollywood glamour when designers like Valentino ("Ziegfeld Girl") or Gaultier ("Shanghai Express") discuss their muses/inspirations. Hayward was never identified in this way either then or now, proving the power and endurabilty of image over talent, especially today!