No list of Hollywood's best films of the Forties doesn't include 1941's Sullivan's Travels and The Miracle at Morgan's Creek.
The former, costarring Joel McCrea and Veronica Lake (pictured above), is widely considered (again, with justification) as Sturges most personal film. After all, it concerns successful comedy director John L. Sullivan (McCrea), who pines to make a "serious" movie, one with social significance.
To observe conditions on the ground, Sullivan disguises himself as a hobo, and sets out with disenchanted starlet (Lake) on a journey that has him hopping freight trains, sleeping in flop houses, raiding garbage cans and attending lively revival meetings. Things go awry when after tangling with a yard boss, Sullivan winds up in a prison camp where he is flogged, chained and worked to an inch of his life.
An epiphany or sorts occurs when Sullivan is marched off with fellow bedraggled prisoners to a black church for an informal picture show. The movie seen, an animated Disney outing starring Pluto, evokes raucous, almost hysterical laughter from the jail mate audience both black and white. They are united in their collective enjoyment.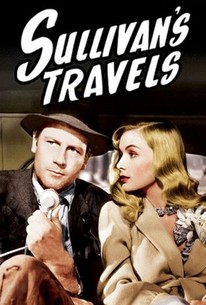 Sullivan divines from this that the downtrodden masses don't want to see "serious" studies of their predicaments. Rather they seek escape from their miserable lives through laughter. At the end of Sturges' film, Sullivan (free and united with Lake) concludes:
There's a lot to be said for making people laugh. Did you know that's all some people have? It isn't much but it's better than nothing in this cockeyed caravan.
Here, here.
And now to Sturges' biggest commercial success.
Although 1944's The Miracle at Morgan's Creek deals with sexual content, it miraculously evaded Hays office censorship.
The plot has Betty Hutton (pictured above center) as the daughter of a small-town constable who becomes impregnated by a soldier she met one night, but resolves the situation by marrying the town dummy (Eddie Bracken). The Hays Office demanded various changes, but by and large the picture emerged unscathed.
The picture has been hailed as a biting satire on marriage, motherhood, the nuclear family, patriotism and American politics. Critic James Agee wrote that in this case, the Hays Office must have been raped in its sleep.