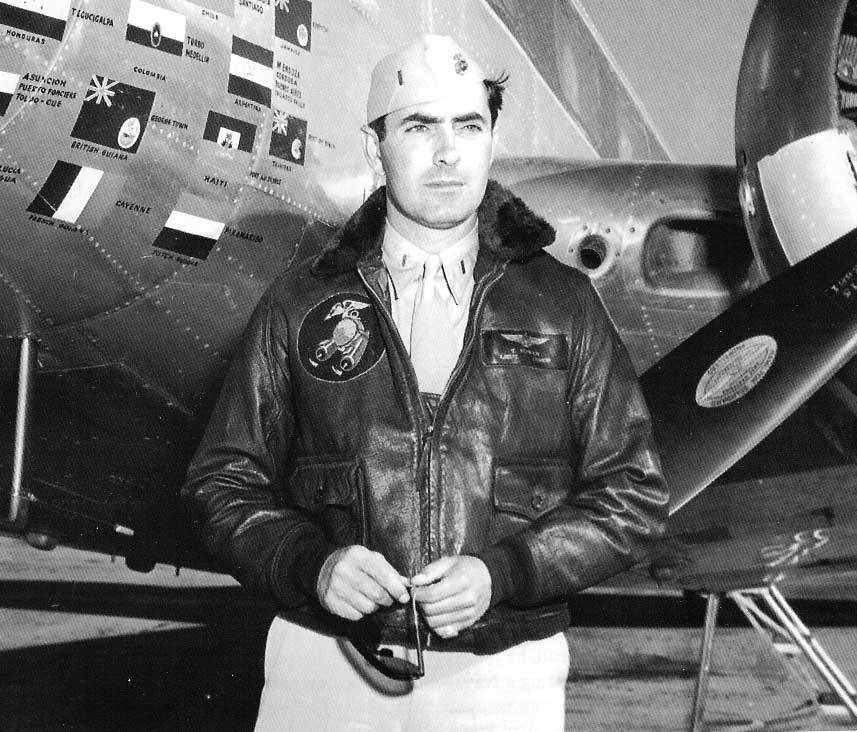 Many stars from the 1940's served in the armed forces in World War II.
Some were teenage actors who naturally were the right age to be drafted.  Many used their studio connections, and served at Fort Roach (the Hal Roach studios in Hollywood) grinding out training films.
But several big names  and several minor stars did enlist and serve valiantly. (Can you imagine a similar situation applying in today's Hollywood? Justin Timberlake off to Afghanistan?  Don't think so.)
Four really big names, at the height of their careers, enlisted much to the chagrin of their studio bosses — James Stewart, Clark Gable, Henry Fonda, and Tyrone Power (pictured above).
Power's war service — from 1942 to 1946 as a pilot in the U.S. Marine Corps.– profoundly affected him personally, and to a large degree shaped his later career.
He had emerged on Hollywood's radar in the late Thirties.  By 1939, he starred in Jesse James, that year's biggest box office hit. Power's career took off from there, soaring in the Forties. (By the late Fifties, he was gone.)
Before the World War II, Power was renowned for his romantic swashbuckler parts emphasizing his famously dark good looks. In addition to playing the title character in the 1940's The Mark of Zorro with Linda Darnell, he was cast as  a pirate in 1942's The Black Swan opposite Maureen O'Hara.
His war service changed things. Power felt he now wanted to take on more serious parts, and take firmer control of his career.
Case in point was one of his most popular hits, 1946's The Razor's Edge, director Edmund Goulding's movie version of the W. Somerset Maugham novel about a wealthy Midwesterner who travels to Europe and points East to find enlightenment and sort out his romantic complications (involving costars Gene Tierney and Anne Baxter).
By 1947 Power's star clout allowed him to take an unexpectedly grim screen turn the lead in the classic film noir, Nightmare Alley. 
It was his most challenging role — that of a carnival hustler reduced to carnival freak, biting off the heads of chickens as "entertainment." Power's performance is mesmerizing, making (his character) one of the most compelling characters in all film noir," wrote Eddie Muller in his definitive 1998 study, Dark City: The Lost World of Film Noir.
With The Razor's Edge and Nightmare Alley, Power had more than achieved his purpose. He was also using his star clout to secure better starring roles for himself and to lay the groundwork to even more control of his movies as a producer,
He had a hand in producing at least three titles, including his last, Solomon and Sheba, a Biblical epic. Power suffered a heart attack during the Solomon filming, and died at age 44.