Who remembers Sally Forrest?
Raise your hands. (Not many takers, we see.)
Ok, we admit it. The former Katherine Salley Feeney, born in 1928 in San Diego, was hardly an A-list personality in classic Hollywood.
Her career at MGM started right out of high school, and she was better known by some as a dancer rather than actress. We are not put off by these limitations, and find Forrest to be easy on the eyes and otherwise appealing no matter her vehicle.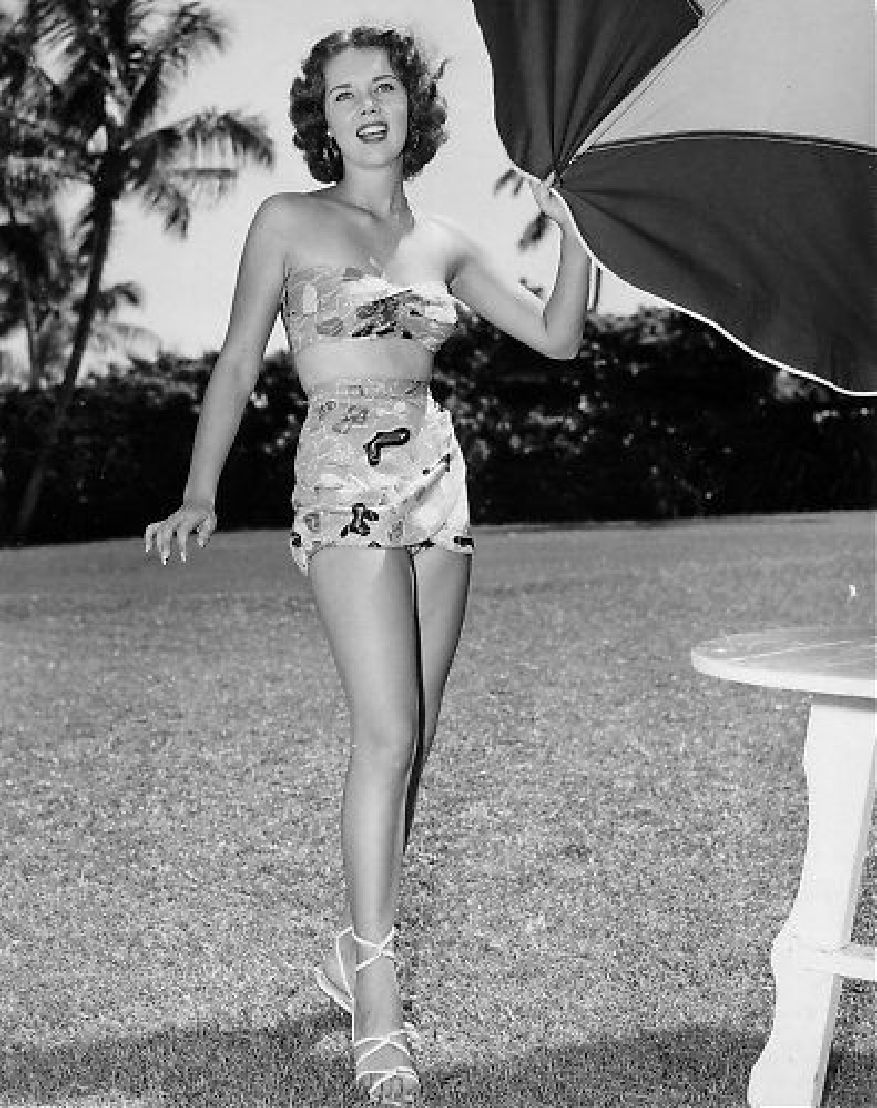 Forrest started out her nearly 20-year career in movie musicals, but graduated to dramas and some pretty good film noirs.  Later in her career, she starred on Broadway and in several stage productions. Her personal life was wildly conservative by Hollywood standards; she died a widow in 2015 after a long battle with cancer. She was 86.
Ok, on to our Sally Forrest Quiz. As usual, questions today and answers tomorrow.  Here we go:
1) Question: In 1950's Never Fear (aka The Young Lovers) Forrest costars with Keefe  Brasselle (the two are pictured above) as a physically afflicted young dancer whose show biz career is in peril.  What disease afflicts her?  a) Herpes; b) Chronic Constipation; c) polio; or d) Amyotrophic lateral sclerosis.
2) Question: Can you name this well known woman, who was a pioneering producer-director, who helped Forrest's career considerably? a) Mae West; b) Ida Lupino; c) Lucille Ball;  or d) Chantal Akerman.
3) Question:  What did Forrest and Marilyn Monroe have in common? a) Both married baseball players; b) Both were suicidal; c) Both starred in The Seven Year Itch; or d) Nothing.
4) Question: Late in her career Forrest found herself cast close to nudity in a randy piece of late RKO output surrounded by several real life strippers. What was the title of this 1955 picture? a) Son of Sinbad; b) Tarzan's Hidden Jungle; c) Texas Lady; or d) Pearl of the South Pacific.
5) Question: Why did Forrest interrupt a relatively successful Hollywood screen career to move to New York to try working in live theater? a) She had had a snootful of Hollywood, and needed a change of scenery ; b) Her husband at the time got a bigtime tv job in New York; c) She just couldn't stand being deprived of genuine pastrami sandwiches; or d) None of the above.