He came to Hollywood early. Catch him as June Allyson's love interest in 1949's Little Women.
Then he went on to stardom. Most women in America swooned when he seduced Katherine Hepburn in Summertime.
And let's not forget that period studio item — big box office in 1954 — Three Coins in the Fountain, in which Maggie McNamara joined Dorothy McGuire and Jean Peters in making wishes at Rome's Fountain of Trevi. (The movie's title song was one of Frank Sinatra's biggest hit recordings.) Brazzi is on hand as a translator with many talents.
And then there was his soggy encounter with Bogie in 1954's The Barefoot Contessa.
Born in 1916 in Bologna, Brazzi set out initially for a career as a lawyer. He was athletic, great looking and not so surprisingly he wound up instead on the stage. Then came movies and by the early 1940's, he was on his way. His transition to the U.S. seemed almost seemless — thus his star-like success.
The apex of Hollywood career came in 1958 when he played the suave Emile De Becque opposite Mitzi Gaynor in the big screen version of South Pacific. Producers needed a lightly accented Continental leading man who could sing a bit. Brazzi fit the bill.
Brazzi, who died in Rome in 1994, once said of himself: Sometimes my face is more beautiful than the leading lady's.
——————————————————————————————————————–
Answers to yesterday's Monday Quiz.
Yes, our man is….actor-director Vittorio de Sica. Here he is with his most beautiful protege.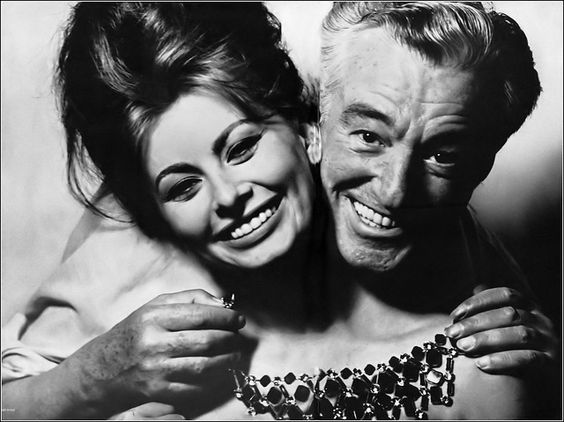 Besides producer Carlo Ponti, Sophia Loren's longtime husband, the man in her life who shaped her most creatively was DeSica, with whom she made 14 films including 1963's Yesterday, Today and Tomorrow during which Loren famously performs a strip tease for the benefit of her favorite costar, the late Marcello Mastroianni.
It was DeSica who guided Loren through what is her best movie, 1960's Two Women, which won Sophia a best actress Academy Award. Ok, on to the answer to our DeSica Quiz:
Question: Our man was Oscar nominated in the best supporting actor category for his performance in which one of the following titles? a) Umberto D.; b) The Shoes of the Fisherman; c) Woman Times Seven; or d) A Farewell To Arms.
Answer: De Sica was nominated for his performance in (d) 1957's A Farewell to Arms. (Winner that year was Red Buttons for Sayonara.)
Question: Which of the following stars did our man NOT costar within Sixties Hollywood? a) Clark Gable; b) Laurence Olivier; c) Raquel Welch; or d) Lawrence Tierney.
Answer: (d) Lawrence Tierney.
Question: In one of our man's most notable efforts, Umberto D., the plot revolves about the loving relationship between a destitute old man and his dog. What was the dog's name? a) Pisano; b) Spot; c) Fido; or d) Flike
Answer: d) Flike. And he nearly steals the movie.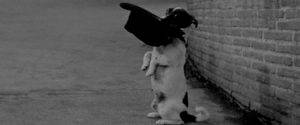 7) Question: As a director, our man became identified with "neo-realism" in the choice and realization of various subjects. Which of his following titles fits that label? a) The Children Are Watching Us; b) Marriage, Italian Style; c) Two Women; or d) The Garden of the Finzi-Continis.
8) Answer: a) The Children Are Watching Us, one of DeSica's earliest films (1943) and one which amply demonstrates his central notion about a struggle against the indifference of society towards suffering. With this in mind, take another look at 1948's The Bicycle Thief.
9) Question: In 1953, our man directed two of Hollywood's biggest stars (and clashed with a key American producer) in Indiscretion of an American Wife. Can you name the two stars?
10) Answer: They are Jennifer Jones and Montgomery Clift. (That contentious producer was David O. Selznick.)