His time was brief but he made quite an impression.
His early (and mysterious) death snuffed out a career which might have gone on for decades.
Robert Walker's short but tempestuous time in the limelight — covering some 22 credits over a 13-year span — earned him a notch as one of classic Hollywood's princelings along with the likes of John Garfield and Montgomery Clift.
The gifted and good looking actor was the product of a troubled childhood (he was born in Salt Lake city in 1918) and of a disastrous early marriage (more on this in a minute). As a consequence he was given to violent, drunken rages in public that in the late Forties landed him in sanatorium.
Nonetheless Walker racked up a solid appearances in films with Ava Gardner (1948's One Touch Of Venus), Judy Garland (1945's The Clock), Deborah Kerr (1950's Please Believe Me) and Katharine Hepburn (1946's Till The Clouds Roll By).
The movie Walker will forever be remembered for is, of course, the 1951 Alfred Hitchcock thriller Strangers On A Train.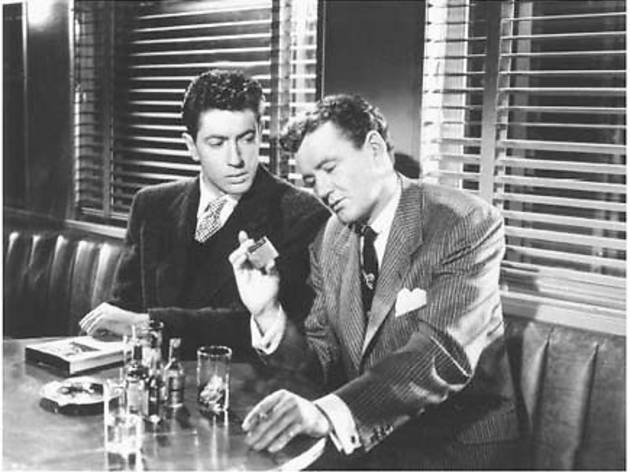 Walker superbly (and convincingly) plays the role of the unctuous psychopath who offers to trade murders with tennis star (Farley Granger) (seen above on the left). For our money, Walker's performance is one of the very best in a Hitchcock film.
As for that disastrous early marriage, read on….
That's Jennifer Jones, dancing with Joseph Cotten, and her then husband Robert Walker, with Claudette Colbert, in a scene from their 1944 film, Since You Went Away.
Jones was the first of Walker's three wives (they wed in in 1939) , the one he never got over. There they are again (below) paired in the picture.
All was not well at the time this picture was taken. David O. Selznick, the famed producer who backed Since You Went Away, was also married but was obsessed with Jennifer.
Cotten remembered that one day while sitting quietly between rehearsals, Colbert turned to him and asked, Is it true, Joe, this talk I hear around the lot?
Cotten responded, What talk? I haven't heard a word. Concluded Colbert: If you haven't heard about it, it's not true." The subject was dropped and never brought up again.
A few days later director Alfred Hitchcock visited the movie set, and casually remarked to Cotten: I suppose David and Jennifer are going to get married as soon as his divorce is final. I had a letter from England today.
A stunned Cotten later recalled that Claudette and I, each thinking that we were sitting on a powder keg, remained silent. The picture was not in any way affected by their romance.
Jones formally ended her marriage to Walker in 1945. (She didn't marry Selznick until 1949.) Walker was devastated. My personal life has been completely wrecked, he said.
In August of 1951, the story goes that Walker's housekeeper was alarmed by his erratic behavior at home. She call in his psychiatrist who administered a sedative. Walker, who had been drinking, sustained an acute reaction to the drug and stopped breathing.
A differing account of Walker's demise has surfaced in ensuing years, casting doubt on that first account. The end result was the same, however. Walker's career, one of great potential, was over. The actor was two months shy of his 33 birthday.