One of the most interesting — perhaps the most essential — of the studios responsible for Hollywood's Golden Era.
Ok, you say, we exaggerate.
Maybe but not by much. Whenever the above logo appears onscreen to introduce a feature film, Frank (a die hard RKO fan) pays special attention.
What's coming? A monster spectacle, a silken song-and-dance fiesta, a solid comedy or perhaps a genuine artistic classic or the latest wrinkle in film noir.
RKO gave it all to us. Yes, MGM gave us the full compliment of glossy musicals and dramas, delivered with technical wizardry. Warner Bros. got down and dirty with style in its gangster pictures and Columbia, Paramount, Universal, 20th Century Fox all came up with impressive outputs of film noir.
But none of them did it quite the way RKO did. (In just 11 years until 1956, RKO generated 42 noir titles, an extraordinary pace.) Film scholar Eddie Muller credits the studio with impressively nourishing the genre.
RKO's lifespan, from 1928 to 1959, encompassed many front office rows and management changes — infamously including the reign of Howard Hughes — but always adapted in inventive ways. Orson Welles was followed by Val Lewton with Frank Capra, Walt Disney and Fred and Ginger in the wings.
We'll get into more company detail tomorrow (when we disclose the answers to today's quizlet). Today we'll pose the questions — in the form of photographs from some of RKO famous and less famous pictures, which YOU have to identify.
Bonne chance.
No, this isn't a shot of internecine front office warfare. It's taken from perhaps RKO's most enduring film. What's the title?
2. Yes, RKO is the studio that released Citizen Kane and The Magnificent Ambersons. But the studio also released this 1943 Orson Welles-Joseph Cotten vehicle, a foreign intrigue thriller about a mild-mannered corporate engineer who fights back against lethal forces. What's the title.
3. This picture is often cited, with justification, as the best example of film noir ever made. As was the case in many good things at RKO, Robert Mitchum is front and center. What's the title?
4. One of producer Val Lewton's significant contributions to RKO's B unit was this film which while often underrated packs an emotional punch today. It's about a lonely little girl and her imaginary friend. What's the title?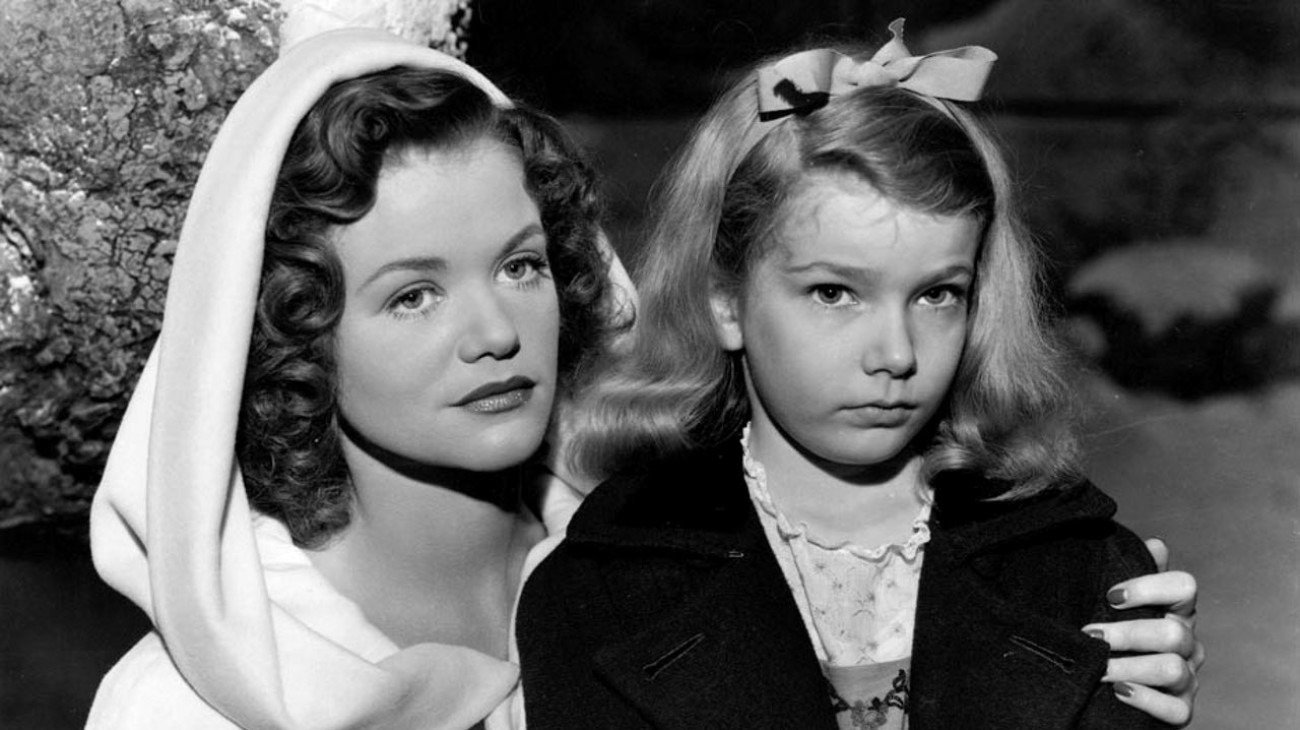 5. One of our favorite screen duos comprised Charles McGraw and Marie Windsor. Here they are in this brisling 1952 policier smoothly directed by Richard Fleischer. What's the title?