It's fun to watch a film that's over 70 years old and realize how good it still is.
We're talking here about a great movie, Treasure of the Sierra Madre, and — a superb  director, John Huston, who was a pretty good actor as well.
We don't care what some critics say. We admire Huston  (pictured above above right), and always will. Any director who gives us The Maltese Falcon, The Treasure of Sierra Madre, Beat the Devil and The Asphalt Jungle (not to mention The African Queen, The Man Who Would Be King and many other titles) has got to be cherished.
As announced — and by the way, that's Huston to the right with his father, Walter Huston — our subject today is the director's 1948 masterpiece, the Treasure of the Sierra Madre.  Men tend to love this picture and women, for reasons that elude us, seem as a whole to dislike it.
The picture has nonetheless garnered its share of awards:  Treasure did NOT win best picture in 1949; Hamlet starring Laurence Olivier did (he garnered that year's best actor citation). The Academy can be forgiven in this case but Frank still believes they (yet again) didn't get it right.
Anyway, to make thing even more formal, the National Film Preservation Board entered Treasure into the national film registry in 1990. Don't let all this official — and much deserved — recognition turn you off the movie.
Treasure is at heart a sweaty, down and dirty adventure outing about three down-and-nearly-out men prospecting for gold in the 1920's in the mountains near Tampico, Mexico.
There's Humphrey Bogart as Dobbs, Huston pere as crusty Howard and the always underrated Tim Holt as Curtin.  (Bogie and Holt share the photo below.)
In his excellent 1980 memoir, An Open Book, John Huston spends much time attempting to unravel the true identity of B. Traven, the author of the novel upon which Treasure is based. "A mysterious figure," Huston called him. He also drops these tidbits about the picture:
— Treasure was one of the first American made entirely on location outside the U.S. Huston undertook an 8,000-mile scouting trip throughout Mexico, finally settling on mountain country outside the village of Jungapeo near Tampico.
— Huston fils instructed Huston pere as old Howard to "take your teeth out for this role" to make the character "wise, sly and toothless." Senior reluctantly  agreed to remove his dentures asking,"Christ, do I have to do that?"
— The part of chief bandit (Gold Hat) went to "a part time Mexican actor," Alfonso Bedoya. "One of the two other Mexican bandits we hired had actually been a bandit. These two Mexicans took an immediate dislike to Bedoya and harassed him continually. Despite this Bedoya — who memorably holds forth about the necessity of "stinking badges" — enjoyed a brief movie career after Treasure came out. He had  quite a vogue. Then he began to drink heavily, which I suspect was the main cause of his death a few years later (actually 1957). (That's Bedoya below.)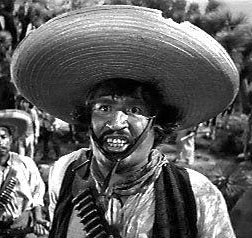 The stars were aligned for this picture.  The script was first rate, concise and propelling. The performances — with special kudos to Barton MacLane as the villainous McCormick and Bruce Bennett as interloper Cody —  are superb across the board. The technical credits, particularly Ted McCord's cinematography, are impeccable.
And then there is Max Steiner's perfect musical score, matching the mood of the movie while eminently listenable in its own right. Did Hollywood ever produce better dramatic musical scores than those of the 1940's?
Huston wrote that 'Treasure' is one of the few pictures I don't turn the dial away from when I come across it on television. 
About his father: (His) was certainly the finest performance in any picture I have ever made…When he does that dance of triumph before the mountain, cackling out insults at his compadres, the goose flesh comes out and my hair stands up.