There she is with best pal, Lana Turner. She had quite a career in B movies and as Clark Gable's on again off again lover.
In fact, Grey was a child actor but never a star. Her father Ray Grey was a director in the silent era. Legend has it that Gloria Swanson was one of her babysitters.
She left movies to get an education, and for a while trained as a nurse. Finally, she returned to become an ingenue at MGM.
Although she was a fine actress, she often played bottom-of-the-bill films. Everyone knew she was the more than an occasional paramour of the studio's top male star, Clark Gable. Their affair lasted for years and through several of his marriages (Gable had five.).
Grey never married. Her career lasted for years.
She was great friends with Lana Turner and later with Ross Hunter and both saw to it that Virginia worked in their films. In fact, she and Lana appeared in six movies dating from 1938's Rich Man, Poor Girl to 1966's Madame X.
She is in the MGM all-starrer, 1939's The Women. Look for her as Joan Crawford's co worker at the perfume counter
.And another of her films you shouldn't miss is 1955's The Rose Tattoo starring Anna Magnani.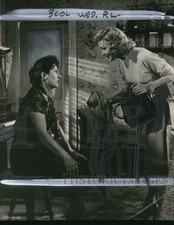 Grey (the mature version above) worked in films and on TV through the 1970s, compiling a busy career comprising some 145 credits.. She died at 87 at the Motion Picture Country Home in 2004.