He made just about two dozen movies in all, not a vast amount for a supporting character actor. However, he left a larger mark on the Broadway stage and on television.
Although he could play smoothies (check him out as Lana Turner's suave modeling agent in 1950's A Life Of Her Own)…
…Ewell became in the Fifties a kind of go-to guy for parts calling for a beleaguered, schlumpish wiseacre sporting at his most animated a dour facial expression.
The actor will be forever remembered as that genial observer/appreciator of Marilyn Monroe in the unforgettable billowing skirt scene in Billy Wilder's 1955 big screen rendition of The Seven Year Itch.
What is often forgotten is the fact that Ewell had already played the same part, that of a daydreaming philanderer, on Broadway for nearly three years. And, did you know that the sexy upstairs neighbor played by MM on the big screen was in the stage incarnation originated by Austrian-born actress Vanessa Brown?
Ewell also turned up leering at another sexpot — Jayne Mansfield — in the 1956 comedy The Girl Can't Help It.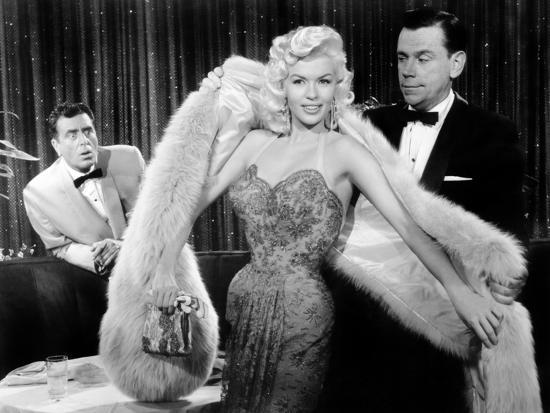 In reality Ewell, born Sam Tompkins in Kentucky in 1909, had been acting on the stage since the age of 19. (He died in 1994 at the age of 85.) He developed into a highly skilled light comedy practitioner.
His first foray in Hollywood was not successful but by the early Fifties he became a sought-after commodity. The Seven Year Itch won him a Golden Globe as best actor. (Ewell later won an Emmy for his supporting role in the late Seventies tv series, Baretta.)
He said he was personally dogged by an inferiority complex, and never watched himself onscreen big or small. His loss was and is our gain.