Though he's most remembered today for his extensive television career, Richard Long started in films, and made some good ones in his short life.
The Chicago-born actor started in the movies early, just out of high school. He remained busy on the big screen and on the tube until his early death of heart failure just before Christmas 1974, at the age of 47.
Long's career was somewhat truncated by his two-year U.S. Army service during the Korean War, when he found himself stationed alongside Martin Milner, David Janssen and Clint Eastwood in Fort Or., California.
Sure, he was fun as one half of a two detective private eye office — the other was played by Andrew Duggan — in ABC's 1959-60 series, Bourbon Street Beat…
…And earlier as Gentleman Jack Darby on Maverick, or as himself on 77 Sunset Strip. Or, as widowed math teacher Harold Everett in the early Seventies tv series, Nanny and the Professor.
But take a look below at Long as he appeared in his second bigscreen feature, Orson Welles' 1946 thriller The Stranger.
He plays the protective younger brother of Loretta Young, whose life is threatened by the high ranking Nazi fugitive she unwittingly just married. Long is restrained and credible as a supportive sibling gradually becoming aware and then horrified at what could be in store for his sister. (Watch his scenes in this picture with Edward G. Robinson.)
We also like Long's appearance as Burt Lancaster's wholesome brother in the 1949 noir thriller Criss Cross.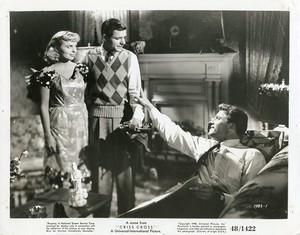 A note about Welles and Long. The former was impressed by the latter's film debut in 1946 as Claudette Colbert's son in Tomorrow Is Forever (see below). Thus Welles cast him in The Stranger, which Welles starred in and directed.