One of the best and most notable character actors of the Golden Era.
For years he was Hollywood's stock German. He had to spend most of his time living up to English-speaking stereotypes of the cruel/menacing or stupid/bumbling German, writes British critic David Thomson.
Homolka, Thomson continues, did it all with good grace and humor without losing the capacity for the occasional virtuoso supporting performance when thick accent, shambling figure and beetling brows seem the natural visible signs of a real human being.
A native of Vienna, Homolka worked hard early on as a stage actor, assaying some 400 stage plays before the age of 30. When the Hitlerian menace became to big to ignore Homolka departed for England.
While there, he excelled as an anarchist in Alfred Hitchcock's 1936 thriller, Sabotage. His costar, Sylvia Sidney as Mrs. Verloc, famously takes a carving knife to her nefarious husband.
By the early Forties, Homolka had moved on to Hollywood where he became somethig of a go-to European.
Homolka rolled up more than 100 acting appearances including roles in Howard Hawks' 1941 comedy Ball of Fire with Gary Cooper and Barbara Stanwyck , Michael Curtiz' 1943 drama Mission to Moscow, and George Stevens' 1948 winner, I Remember Mama — for which he was nominated for a best- actor Oscar.
He is remembered as the doctor who loses Jennifer Jones in childbirth in 1957's A Farewell To Arms. He also turned up in Billy Wilder's 1955 comedy The Seven Year Itch starring Marilyn Monroe.
After the mid-Sixties, Homolka lived in England. He led a busy professional and private life — marrying four times. His last wife, wed in 1949, was actress Joan Tetzel.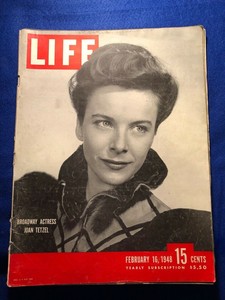 She died three months (at age 56) before Homolka's death in 1978 (at 79).