What a beauty!
But in contrast to the Italian actress beauties we've been profiling lately — namely Gina and Sophia — Monica Vitti projects onscreen not a bit of their playful earthiness. Rather, she often personifies a certain aloofness.
Or, look at it this way: risque calendars featuring Gina Lollobrigida and Sophia Loren would not be out of place on the walls of your local garage. Images of Vitti are more suited to the editorial offices of British buff journal Sight & Sound.
Vitti was the serenely detached and cool protagonist. Beautiful to be sure but difficult to get or even understand. That was precisely what director Michelangelo Antonioni called for in 1960's L'avventura, the calling card of Vitti's big screen career.
She portrays a fetchingly serene young woman who drifts into an affair with a man whose girlfriend goes missing on a volcanic island located in the Mediterranean. The New York Times wrote of Vitti's accounting, an air of disenchantment perfectly conveys the unreal aura of her heroines.
L'avventura made Vitti an international star.
The Italian government put her image on a postage stamp commemorating the movie. The movie also solidified a close personal relationship between Vitti and its director, which resulted in subsequent and related collaborations — La Notte (Night, 1961) and 1962's L'Eclisse costarring Alain Delon, in which portrays Vitti's character's troubled affair with an aggressive European stockbroker.
L'aventurra also sparked her appearances in a sprinkling of English-language movies — mostly duds. Vitti's first was 1966's Modesty Blaise, a James Bond spoof costarring Dirk Bogarde.
Then there was was this oddity: On My Way To The Crusades, I Met A Girl Who…, an 1967 Italian-made comedy with Tony Curtis that was released in the U.S. as Chastity Belt.
Vitti's second English-language film was director Michael Ritchie's 1979 An outing, An Almost Perfect Affair, costarring Keith Carradine. The setting was the Cannes Film Festival; Vitti knew the territory well since she served five years earlier as an official Festival jury member.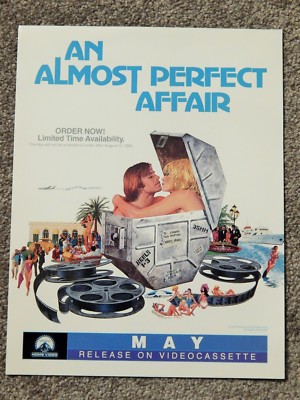 Let's also give a nod to Vitti's fourth collaboration with Antonioni in 1964's Il Deserto Rosso (Red Desert) costarring Richard Harris.
In all, Vitti racked up some 60 credits, mostly European tv ventures.
By the late 1980's, she retired from big screen moviemaking. Sadly she has been out of circulation for at least two decades due to her Alzheimer's disease condition. She lives in Rome, looked after by her husband, Roberto Russo, whom she married in 1995.