That's her with husband Rex Harrison. When he came over from England after WW II she came with him. In Europe, Lilli Palmer was considered exotic.
Here's Lilli with Gary Cooper in Fritz Lang's 1946 thriller Cloak and Dagger. In Hollywood, she was considered beautiful.
She was already a star in Europe when she arrived on our shores. She was choosy in her roles, and she wasn't under contract to any studio, which made her career a bit of hit and miss. But Lilli Palmer was truly an international leading lady.
Born in 1914 in Prussia, Palmer (nee Lillie Marie Peiser) was the daughter of a proper German family — father a doctor, mother an actress — who took to acting early on. She worked in stock and in cabarets until the early Thirties when she was lured to England at the behest of producer Alexander Korda. That laison didn't work out especially well but Palmer managed to make her movie debut in 1935's Crime Unlimited.
After well-received appearances in a series of titles over the late Thirties and into the World War II years — including Alfred Hitchcock's 1936 thriller The Secret Agent and Carol Reed's A Girl Must Live in 1939 — Palmer established herself as a European star. Her appearance with husband Rex Harrison in 1945's The Rake's Progress sealed the deal.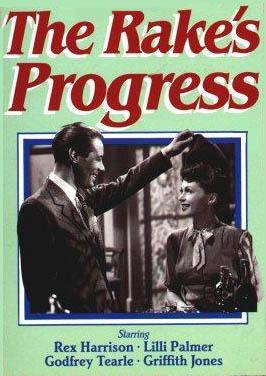 When Harrison decamped from England to Hollywood, Palmer joined him, remaking herself into a physically striking leading lady of considerable glamour. As British critic David Thomson noted, In Britain, she had looked pretty but 'European.' In Hollywood she was turned into a beautiful woman.
While starring in a string of successful titles — including 1946's Cloak and Dagger from director Fritz Lang and Robert Rossen's 1947 melodrama Body and Soul opposite John Garfield — Palmer undertook Broadway stage appearances with her husband in Bell, Book and Candle, and then in the film adaptation of the stage hit, The Four Poster.
With Harrison, Palmer certainly had her marital ups and downs.
Imagine how she felt when the news broke that he had carried out an extended affair with 20th Century Fox contract starlet Carol Landis. In July of 1948, Harrison walked into Landis' home in the Pacific Palisades — and discovered her dead body.
His lover had overdosed on sleeping pills. Landis was 29 when she killed herself. Her suicide note asked her mother to "pray for me." Supposedly, when a maid discovered her body on the bathroom floor, she waited several hours before calling a doctor and the police.
Rumors soon circulated that Landis had left two suicide notes, one for her mother and one for Harrison. But supposedly the actor's (or the studio's) lawyers told him to destroy it.(Palmer's marriage to Harrison, begun in 1943, ended in divorce in 1957.)
Palmer worked extensively on both side of the Atlantic in the Fifties, Sixties and Seventies, usually cast in roles as that mysterious, continental woman. Eight years before she died — in 1986 at age 71 — she appeared with Laurence Olivier and Gregory Peck in The Boys From Brazil. It's certainly worth another look.