Alcohol and drugs have undermined many a Hollywood star. And the story of Gloria Dickson is one of quick rise and quick fall.
Joe was re-watching one of his favorite films, 1943's Lady of Burlesque, when he noticed that one of Barbara Stanwyck's co stars was Gloria Dickson.  Joe had noticed her name in the credits many times. He'd appreciated her performance as Dolly, an over-the-hill stripper.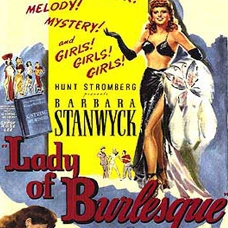 But it wasn't until he ran across a picture of John Garfield and Gloria from an earlier movie that he realized it was the same actress that won his favor in Burlesque. The picture (above) came from the 1939 crime drama, They Made Me A Criminal.
Joe thought: Boy, Gloria Dickson had sure changed in a mere four years.
She had made a sensational film debut in 1937's They Won't Forget (which also catapulted Lana Turner in a tight sweater to prominence — Lana became "the sweater girl" and went on to one of Hollywood's fabled careers.).
Gloria was established early as one of Warner Brothers leading ingenues.  In 1938, she began the first of her three marriages, this one to Perc (pronounced Perse) Westmore, Warners' Make-up Artist, and a member of the famous Westmore Cosmetics Family. But then she began to drink heavily.  Perc too was a heavy drinker. (Their marriage ended in 1941.)
l
Gloria and John Garfield had a torrid affair. Gloria and Perc divorced. Her physical appearance changed, and soon she was doing character roles.
She married twice more; her last husband, an ex-middleweight boxer, was the former bodyguard to Jean Harlow.  Sadly, Dickson died in 1945,  just months shy of her 29th birthday in a house fire.
The details are not nice — Gloria died of asphyxiation trying to climb out of an upstairs bathroom window while a fire blazed, presumable started by a smoldering cigarette left on a sofa in the living room.
If you haven't seen it — do not walk, but run — to get a copy of Lady of Burlesque. It's a true classic of the 1940's. Stanwyck plays a stripper who solves a murder. The script is based on "The G String Murders" by real life burlesque queen Gypsy Rose Lee. It features some of the best character actresses of the period.