Who?
Ok. The name and the actress may not ring a bell unless you are an avid follower of big studio pictures of the 1950's. But back then, watch out!
The former Debralee Griffin, born in 1933 in Denver (and is still with us at 87), was the product of a classic show biz Mom — described as an "ex-burlesque queen" — who moved the family to Los Angeles in order to get her winsome daughter into the movies quickly.
Debra Paget's first professional job was at age eight. By 12, she was a seasoned stage actress. By the time she was 15, Paget had been signed to a 20th Century Fox contract and found herself being romanced by James Stewart (then 41) in the western, Broken Arrow.
Paget by the mid-Fifties was cast in some big Fox wide screen productions, drawing nearly as much fan mail as studio goddesses Betty Grable and Marilyn Monroe.
Here she is getting smooched by Victor Mature in….
1954's Demetrious and the Gladiators.
A high point of her career came in 1956, with her appearance as the seductive water girl in producer-director Cecil B. DeMille's hugely popular biblical epic, The Ten Commandments.
By the end of the Fifties, with her studio contract ending, Paget went to Europe to appear in, of all things, an adventure drama directed by Fritz Lang. Paget may have felt liberated by the experience. For sheer erotic power (remember this was back in the Fifties), it was hard to beat Paget's risque snake dance sequence in 1959's The Indian Tomb.
Paget's private life was perhaps more interesting than most of the screen roles she played. She was billed above Elvis Presley in his 1956 movie debut in Love Me Tender. She and the King developed a close personal relationship. Paget said they were "friends" but all indicators pointed to something more serious.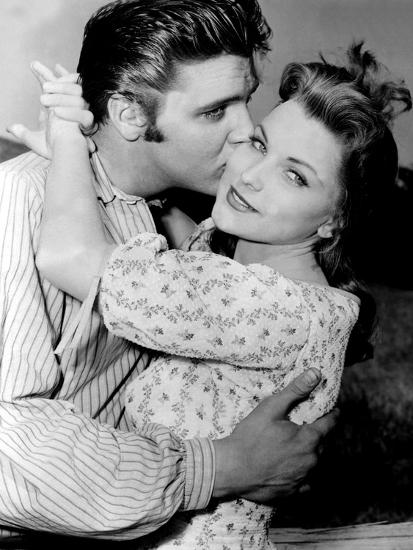 Paget went through three marriages, two of unusual (even for Hollywood) brevity. Her second husband, director Budd Boetticher, fell apart in a few months. Her third, to a wealthy Chinese-American businessman who claimed an ancestral connection to Confucous, lasted longer.
The romantic tie that Paget did take seriously was with — Howard Hughes.
Debra Paget — A true child of Fifties Hollywood,