A supporting star at MGM, then a survivor in the business. A vibrant, much-talented performer rarely given her full due.
If you are not familiar with Betty Garrett's work, seek out three 1949 MGM musical outings — now classics of their kind — in which Betty steals the show in many scenes, outshining Frank Sinatra in On The Town…..
Red Skelton in Neptune's Daughter ….
and Sinatra, again, in Take Me Out To The Ballgame.
Yet, somehow, Garret's career — just 32 movie and tv credits from the late Forties until 2009 — was far more supporting that stellar. She was attractive without the drop-dead looks of her biggest female costars (Esther Williams, Vera-Ellen or Janet Leigh) but she compensated by firecracker energy and by a pleasing a touch for comedy that made her a most agreeable presence.
Born in St. Joseph, Missouri, Garrett won a scholarship to New York's Neighborhood Playhouse, and landed her first big stage role in Orson Welles' Mercury theatre of Danton's Death in 1938. Five years later, Garrett was spotted by MGM and cast in Big City, a drama/musical hybrid, starring Margaret O'Brien as a irresistible orphan.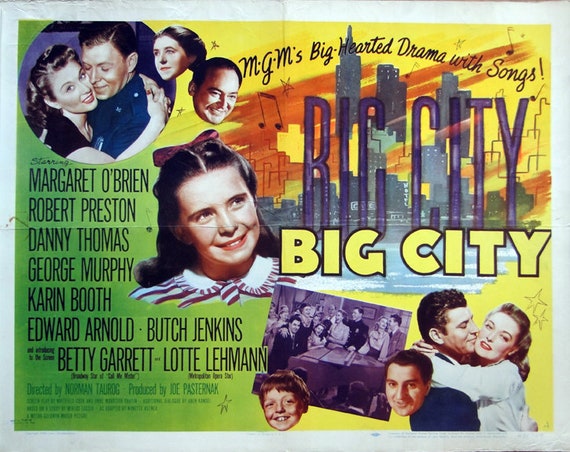 The off-screen drama of Garrett's Hollywood life came in the early Fifties when her husband, actor Larry Parks (who we wrote about last week; he played Jolson in the 1946's The Jolson Story) was blacklisted for his past participation in a Communist Party cell. (Garrett also had been a Party member.)
Parks was blacklisted, and Garrett, who had taken time off to raise two sons, did not return to the big screen in 1955's My Sister Eileen. Later her career was turbocharged by her turn to television — as Archie Bunker's neighbor in All in the Family…
and as Edna, a wise and lady in Laverne and Shirley.
Betty Garrett died in 2011, at the age of 91.