One of the great character actors of Hollywood's peak years was the Englishman Nigel Bruce.
Yes, of course, his legacy is comprised of the 14 Sherlock Holmes films from 1939 to 1946 (plus the some 200 radio programs) with Basil Rathbone as Holmes and Bruce as somewhat stuffy but immensely likable Dr. Watson.
Did you know that in reality their age difference — seemingly broad onscreen — was a mere three years?  Rathbone was born in 1892 in South Africa and Bruce in 1895 in Baha California, Mexico (where his father was employed at the time as an engineer.)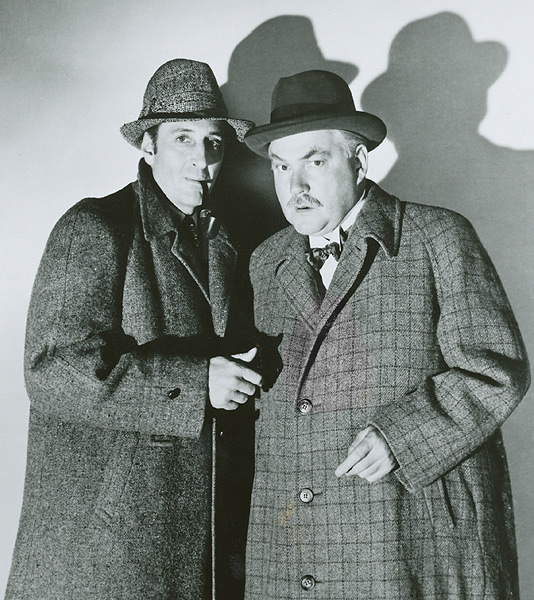 But keep in mind that Bruce began his prolific career (some 80 credits over a 32-year span) in England in 1922, long before Holmes burst on the screen. After stage performances in London and Broadway, Bruce emigrated to Hollywood where he costarred in the 1934 adaptation of the British comedy, Springtime For Henry.
The result: Bruce's career as the bumbling, occasionally snobbish English aristocratic type was assured. Add a touch of comedy and some commonsensical insights and you have Dr. Watson.
Why not check out Bruce as seen in two Alfred Hitchcock outings:  as Major Giles Lacy in 1940's Rebecca with Laurence Olivier and Joan Fontaine; and as 'Beaky' in 1941's Suspicion with Fontaine and Cary Grant.
Fontaine later wrote about her experience noting Hollywood's profusion of class actors during the World War II years.  The British are a cliquey lot. Not only on the set did Gladys Cooper  (above left with Bruce and Fontaine in 'Rebecca') Judith Anderson, Nigel Bruce, George Sanders and Olivier hang together, but they would sit in one another's dressing rooms, swapping theatre stories, recalling old chums from their Mayfair days.
In time Bruce became a prominent member of Hollywood's British colony , even at one time captaining the local cricket club. He died of a heart attack at the relatively early age of 58 in 1953. (Here he is below with Rathbone and a few furry fans.)