Yes, she did. She was considered an up and coming star in the 1930s. And yes, at one time she even got top billing over Bob Hope. She was even referred to somewhat generously as "the female Bob Hope."
There were, for example, the Paramount screwball comedies, College Holiday in 1936 and College Swing two years later teaming Hope and Raye. Then there was the romantic comedy Never Say Die (see above) in 1939.
And after Betty Grable became a GI pinup sensation in the mid-Forties, 20th Century Fox honcho Darryl Zanuck rushed his newfound star into that piece of musical fluff, "Pin Up Girl," teaming Betty with Raye, Joe E. Brown and the Charlie Spivak Orchestra.  It was in glorious color and was a hit.
In fact, Raye rolled up some 40 credits from 1936 to 1985, most of which were movies. Born of vaudevillian parents perhaps literally in a backstage trunk — this time in 1916 in Butte, Montana — Raye started her performing career early, at age 10 to be exact. She later turned big band singer then all purpose comedienne. Her style was broad as the side of a barn, as shown in the photos below with Judy Garland.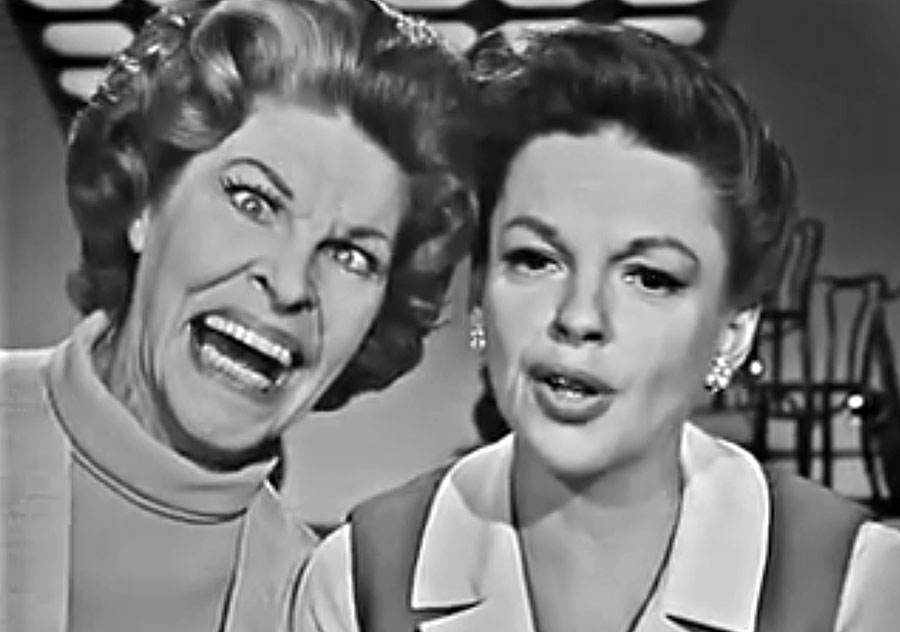 Like Hope, Rayne became a fan favorite on a host of USO tours she undertook at some personal stress — she hated flying — and for which she was awarded in 1969 a special Jean Hersholt Humanitarian Award by the Motion Picture Academy and the Presidential Medal of Freedom by President Clinton in 1993, a year before she died.
Raye is perhaps best recalled today for her many tv and stage appearances, and for her personal affairs. Her married life was well into Elizabeth Taylor territory — seven husbands over some 50 years, the last a bisexual fur designer 33 years her junior. She survived a suicide attempt and the encroachments of several illnesses.
Still in all that daffy "Big Mouth," as she was known, had quite a movie career.