The biggest male star to emerge from Italian cinema in the 20th century was Marcello Mastroianni.
Born in 1924 near Rome in Italy's central region of Lazio, he began appearing as a teenaged extra in movies in 1939. His internationally heralded career ended some 145 credits later; Mastroianni died of pancreatic cancer in 1996.
Along the way he anchored some of Italy's iconic films which, despite the fact that the actor never really made a splash in Hollywood, elevated him worldwide matinee idol status.
Here, for example, is Mastroianni in director Federico Fellini's 1960 classic La Dolce Vita.
His companion here is Anita Ekberg, the Swedish actress whose 63 movie and tv credits were made in Europe, usually in Italy. In La Dolce Vita, she plays sultry temptress, Silvia, who seduces her transfixed male companion (Mastroianni) into partaking with here of Rome's Fountain of Tevi waters after a night of revelry. Ekberg's exquisitely sensual delight in the fountain's waters made for an unforgettable screen moment.
Mastroianni was Oscar nominated three times — a record — as best actor in the foreign language category: for Oci Cornie (Dark Eyes, 1987), Une Giornata Particulare (A Special Day, 1977) and Divorzio all Italiana (Divorce Italian Style, 1961). At the Cannes, he remains one of the few actors to win the Festival's best actor prize twice.
His acting range was broad — tough social drama, comedies in which the actor often played against his good looks and films expressing the philosophical ennui associated with modern life. Here he is as the creatively blocked film producer facing creative and financial deadlines in Fellini's 1963 outing 8 1/2.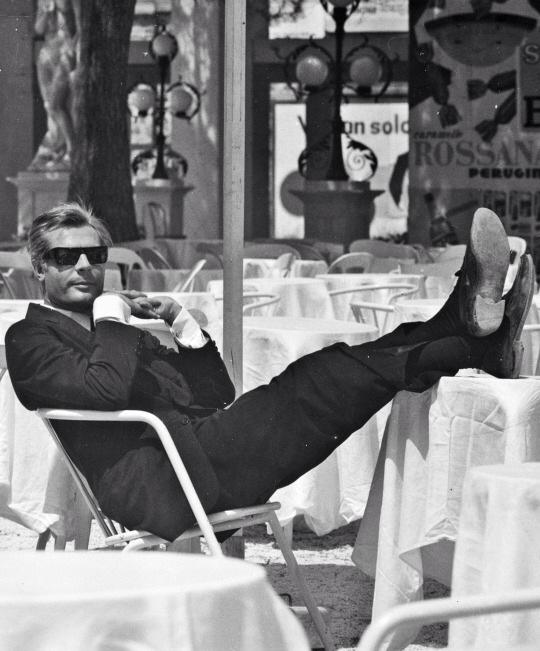 At the oppoisite end of the spectrum is director Mario Monicelli's 1963 beauty, I Compagni (The Organizer), starring Mastroianni (shown in the photo below) as a professorial union organizer who flourishes both personally and professionally by inspiring put-upon workers at a turn-of-the-twentieth century textile factory in Turin to band together for workers rights.
The ideological slant here is softened by inventive comic and romantic elements. Enjoy Mastroianni's character transformation from shy, bumbling professor to inspiring and forceful leader. Wonderful acting. A bonus is Giuseppe Rotunno's striking B&W cinematography.
Although he remained formally married to his one and only wife — they officially separated but never divorced — Mastroianni had intense affairs with some of the screen's renowned beauties including Faye Dunaway and Catherine Deneuve (with whom the actor costarred in five movies; the couple has a daughter, actress Chiara Mastroianni).