Yes, he started in silents. He played opposite some greats, including The Marx Brothers (in 1933's Duck Soup). He was a character actor who could be a leading man when necessary.
And, he cultivated his trademark English mustache in all manner of vehicles: from modern crime dramas to Shakespeare and period fantasy.  Always an authoritative actor, Louis Calhern could also project the fatalistic subtleties of complex characters.  In short, he was a superb, largely underrated actor.
His tall (nearly 6-feet-2) aristocratic bearing belied the relatively modest Brooklyn circumstances of his birth in 1895 as Carl Henry Vogt. The family moved to St. Louis when Calhern was a child, and he grew up in the American Midwest. He was spotted while playing high school football by an agent representing a touring acting group. Thus, he landed his first job as an actor.
His silent movie appearances began in the early 1920's, but were soon interrupted by the lure of the New York stage. Calhern rolled up an impressive resume of in all manner of principal parts on classic plays including Ibsen's Hedda Gabler and Maxwell Anderson's Gypsy, director by George Cukor. Fact is that for most of his career Calhern balanced various roles on the stage and in movies.
After Army service in France during World War I, Calhern eventually returned to Hollywood, usually winding up in supporting character parts. That changed when MGM snapped him up to play in a series of memorable titles in the late 1940's and 1950's. In all, Cahern appeared in nearly 75 films over a 35 period.
Ok, let's see how much you know about this truly distinguished actor.  Questions today and answers tomorrow.  Here we go: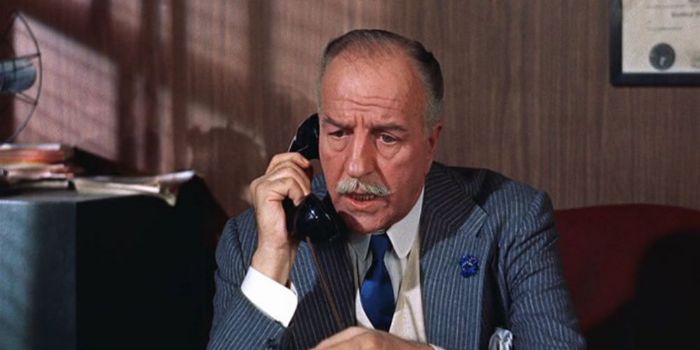 1) Question: One of Calhern's very best roles was that of the shifty lawyer (is that a tautology?) in John Huston's superb 1950 film noir, The Asphalt Jungle. The character is the sugar-daddy to which one of the following actresses? a) Virginia Mayo; b) Rhonda Fleming; c) Marilyn Monroe; or d) Diana Dors. 
2) Question: Calhern was nominated for a best actor Oscar for which one of the following titles?  a) 1950's Annie Get Your Gun; b) 1937's The Life of Emile Zola; c) 1953's Julius Caesar; or d) 1950's The Magnificent Yankee.
3) Question: For six months in the mid-Twenties Calhern was married to his first of four wives, a cultivated actress who would later make her mark on radio and tv.  Who is she?
4) Question: Calhern famously died of a heart attack in Tokyo while making 1956's The Teahouse of the August Moon. Which one of the following replaced him in the picture?  a) Yul Brynner; b) Paul Ford; d) Tom Ewell; or d) Tom Poston. 
5) Question: Calhern is prized for his crisp supporting performance as a spy boss in which one of these Alfred Hitchcock thrillers?  a) Topaz; b) Spellbound; c) North By Northwest; or d) Notorious.