Did you know that Joan Bennett spent at least the first decade of her years in Hollywood as a blonde?
She then changed stylists and emerged as a brunette.
Why, you ask, should we care? Well, because Joan Bennett was one of the finest if largely unsung actresses of Hollywood's classic period, and her output can roughly be divided according to her hair color.
One of the dazzling Bennett sisters, daughters of stage star Richard Bennett, Joan began her career early. And although through the 1930s she was in the shadow of her much more famous older sister Constance, Joan made dozens of films.
Unlike the deHavilland sisters (Olivia and Joan Fontaine), there was no feuding in the Bennett family. Sister Barbara didn't enter the business, but married bandleader Morton Downey (father of the late flame-throwing tv talk host, Morton Downey Jr.)
Joan started her career as a blonde, often playing sassy blond roles underscoring her saucy look. It wasn't until the late thirties in her brunette incarnation that she scored big in film noirs, and in some of her signature pictures.
The hair color change came at the suggestion of producer Walter Wanger (who had Bennett under contract and became the third of her four husbands) and director Tay Garnett for her role opposite Fredric March in 1938's Trade Winds. She agreed to the change, and thus her more sophisticated — and more dangerous — new look.
Keep in mind that Joan starting making movies in 1916. By the time Trade Winds went into production she was a real veteran, having appeared in some 70 silent productions and then dozens more "talkies." Her blond period was not a short one.
It should ber noted that Joan's marital life was anything but tranquil. At one point, husband Wanger had the nagging feeling that Bennett was cheating on him with Jennings Lang, then her agent. A a parking lot encounter ended with the producer shooting Lang in the groin (other accounts are more specific) while he sat in his car.
Wanger spent some time in prison before reuniting with Bennett in 1953, but her career never quite recovered from the incident. (The couple divorced in 1965 after twenty-five years of marriage and three years before his death).
Joan's final outing in 1982 was a tv movie ironically titled Divorce Wars: A Love Story. She died at 80 in 1990.
Ok, let's get to our Bennett as blonde Quiz. We'll provide illustrations from some of her blond period pictures and see if you can identify them. As usual, questions today and answers tomorrow.
Question: In this 1936 outing, Bennett costars with Cary Grant. Joan plays a brassy manicurist.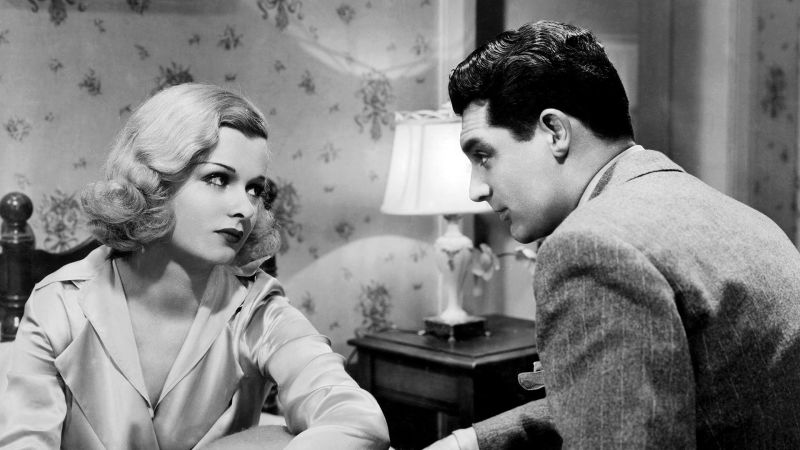 Question: Joan portrays a mostly wholesome young woman with Katharine Hepburn in this 1933 pre-feminist outing directed by George Cukor.
Question: Joan's costars in this 1935 feature are Joel McCrea, Charles Boyer and Claudette Colbert. It's a drama directed by Gregory La Cava set in a psychiatric hospital.
Question: Joan turns up in this 1932 western costarring Charles Farrell and Ralph Bellamy. Can you provide the title?
Question: Here in this musical comedy released in 1937, Joan takes a stylish turn with costar Warner Baxter. Note that this one came out about a year before the big hair color change. The title is…