Which stars have endured?
There are at least 100 movie stars from Hollywood's Golden Age who are still remembered today. Most of them made dozens of films over careers which lasted from 10 to 50 years.
But a handful of actors rose to stardom and maintained their celebrity for decades based on only a few films. Their impact on the public, on the industry itself, was so great that they achieved a certain immortality.
This week we are going to look at those stars.
We begin with the internationally famous man whose name is synonymous with movies, Chaplin. Charles Chaplin. Charlie. The Little Tramp.
As British critic David Thomson writes: As an actor/performer who had impinged on the world's huddling round the idea of the oppressed little man, Chaplin may be the most famous image of the twentieth century.
Yes Chaplin had made short films for years. Almost all of them are lost today. But he really only started making full length films in 1921 with The Kid. And from then on he only appeared in 13 — count 'em — more films, including four more shorts.
Notable titles are the 9 films Chaplin created for his own production company. Keep in mind that many even lowly character actors in classic Hollywood made more than 100 films over the course of their careers.
Critics have applauded Chaplin's short films. The feature-length pictures were received less enthusiastically. His later films are dreadful, intones Thomson. But the early shorts do have a strange sophistication…Their jokes are usually corny and repetitive , but Chaplin's attempt to charm the viewer is masterly.
Ok, this week's Quiz will ask you to identify the titles of five of Chaplin's features dreadful or not. We'll provide the illustrations and perhaps a hint or two. Here we go:
This 1947 title was created by Chaplin after World War II and reflects something of a personal crisis. What's the title?
2) This 1925 entry finds Chaplin in an unusual setting.
3) This 1931 feature showcases Charlie as the Little Tramp falling blindingly in love. Critics loved the movie.
4) This is Chaplin's final film, one that in 1967 left many critics uninspired. It is also his single outing in color. A motley cast includes Marlon Brando, Sophia Loren and Chaplin's son Sydney. (Chaplin wrote, scored and directed the feature but limited his finale performance to a cameo.)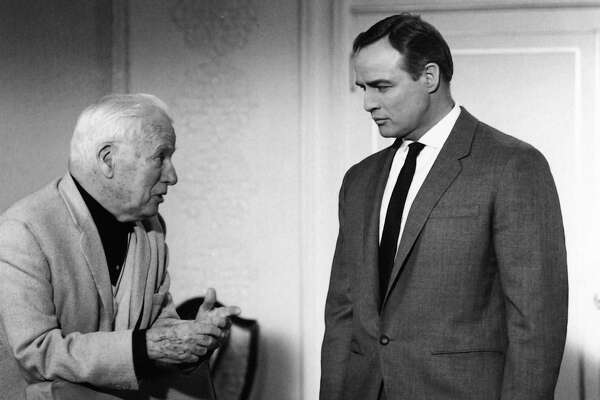 5) This title is one of Chaplin's more memorable, featuring himself as the "Dictator of Tomani." The character, of course, devilishly inspired by that other World War II dictator. Jack Oakie is on hand as a buffoon posing as a another European strong man.