How much did you know about one of the most famous producers of Hollywood's Golden Age?
Perhaps the biggest hurdle facing a producer at the time was to be equally successful working for a studio — which Hunt Stromberg did at MGM from 1925 to 1941 — and working independently.
That's our man on the right above posing with Louis B. Mayer, Paulette Goddard and Joan Crawford, the latter profiting mightily from Stromberg's productions.
Stromberg did both — studio work and freelance — exceptionally well. Here's are two of his most notable and durable studio progenies below.
And, this Barbara Stanwyck hit produced post MGM in 1943 by Stromberg's own production outfit based at RKO.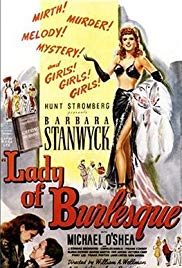 Now to the answers to our Hunt Stromberg Quiz.
1) Question: Stromberg's reputation within Hollywood was such that his name was ranked among an elite circle that comprised Irving Thalberg, David O. Selznick, Walter Wanger and Louis B. Mayer. a) True; b) False?
Answer: a) True. Stromberg was the first studio production supervisor to get a "produced by" credit onscreen.
2) Question: Stromberg was best known as the producer of a) all of Jean Harlow's films; b) Greta Garbo's first American picture; c) a bevy of Nelson Eddy/Jeanette MacDonald operettas; or d) the 'Thin Man" series with William Powell and Myrna Loy.
Answer: All of the above.
3) Question: Although considered independently wealthy by the Fifties, Stromberg managed to lose a fortune in betting on horse racing. a) True; or b) False.
Answer: b) False. By the time he retired in 1951, Stromberg was wealthy enough to become owner-investor in Santa Anita Park and Hollywood Park — both horse racing venues. In other worlds, he had an ownership interest in the joints.
4) Question: Which of the following did Stromberg NOT produce? a) 1936's The Great Ziegfeld; b) 1938's Marie Antoinette; c) 1939's The Women; or d) 1943's Lady of Burlesque.
Answer: Sorry, another of our trick questions. Stromberg produced all four pictures.
5) Question: Stromberg early in his career became a protege of which one of the following? a) Thomas Ince; b) Charlie Chaplin; c) Walt Disney; or d) Samuel Goldwyn.
Answer: a) Thomas Ince, the all-purposed silent film producer who excelled at westerns.