Some of his independent films were huge box office hits. One is said to have been the most profitable Hollywood title to come out the year it was released. (You have to guess the title.)
From roughly three years until 1940, Hal Roach backed away from low-budget comedy to the production of glossy and more expensive feature titles. As he was with shorts, as mentioned, his more ambitious efforts were usually successful.
Our second Hal Roach Quiz this week asks you to identify each of his feature productions pictured in today's blog. (Answers tomorrow.)
Question 1) This 1939 outing with Constance Bennett and Cary Grant is described as a supernatural fantasy/comedy that converts a stuffy middle-aged man (Roland Young, pictured above) into something of a swinger. The title is…..
Question 2) Yup, that's a young Victor Mature (below) with Constance Bennett's younger sister Joan in a crime comedy, with an occasional poisoning, that also involves Adolphe Menjou. The title is…..
Question 3) Yup, that's Victor Mature again (below) in this 1940 tale of prehistoric tribal rivalries that also envelope Carole Landis and Lon Chaney Jr. This one was big box office when it first came out. The title is….
Question 4) With this one, Roach stepped up his game by adapting one of a famous American author's most famous novellas. The stars were Lon Chaney Jr. (left below) and Burgess Meredith. The title is……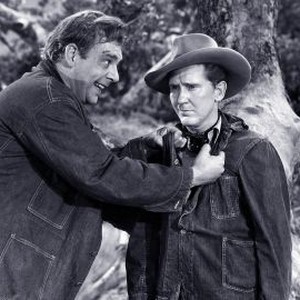 Question 5) Roach wasn't above an action movie or two and this one costars Brian Aherne and another Victor, Victor MacLaglen. The title is…