Here's another snapshot from The Donald Gordon Collection.
This one may be a toughie.
Today's question: Remember him?
Best Picture: 1938's Room Service with the Marx Brothers.
As mentioned, the photo above is from The Donald Gordon Collection, and unfortunately our man Donald didn't label all his prints. In his later years even managed to mislabel a few.
That's why we initially thought the fellow pictured above was Red Barry because it was Barry's name that the late Gordon scribbled on the back on the photo we used.
To check out our original mis-identification of today's mystery man, see our past Susan Hayward: Cancer Victim, in which we ran his photo, and assured the world that he was indeed Red Barry (who was a lover of Hayward's).
Days later, we located an actual photo of Barry, also from The Donald Gordon Collection, and corrected our misidentification (That's Him All Right, The Real 'Red' Barry).
Granted, today's mystery man was hardly a household name, but he did have some notable credits. As mentioned, he played the role of the innocent playwright in the Marx Brothers film version of Room Service. 
Our mystery man had started in films as a boy, about 14, and worked until his death 50 years later. He's in Alfred Hitchcock's Psycho (as the man who provides the cash later stolen by Janet Leigh).  He's probably best remembered as Sam Wainwright, the "hee-haw" guy in It's a Wonderful Life.
Ok, just who IS our mystery man?  (Answer tomorrow.)
Remembering BUD SPENCER: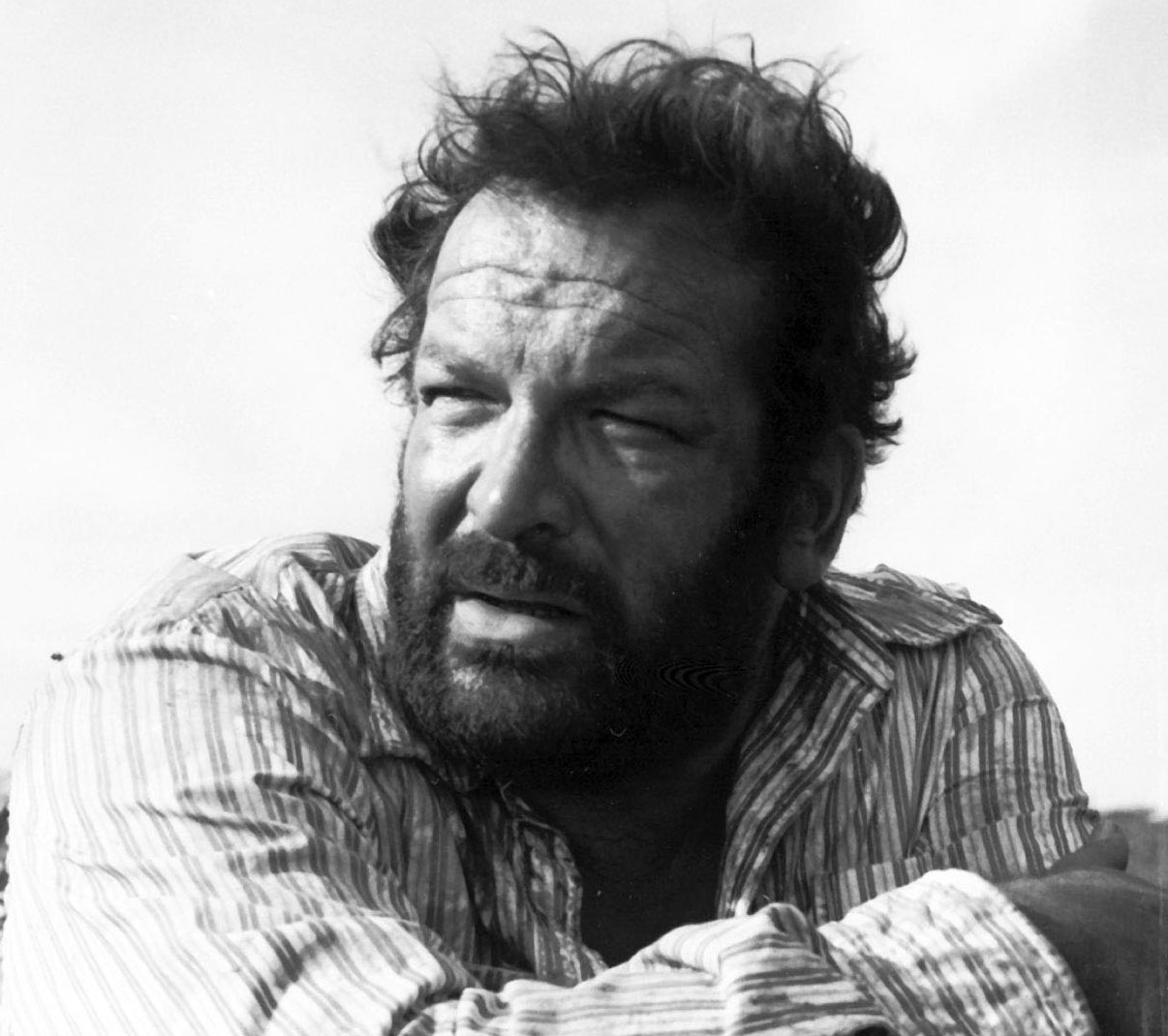 Friends and admirers of spaghetti westerns — of which Frank is definitely one — were saddened to learn of the June 27 death of Bud Spencer, the bulkier member of a sort of Abbott and Costello team anchoring many entertaining Italian-made oaters in the late 1960's and 1970's.
His onscreen partner was the far more handsome Terence Hill (ne Mario Girotti). The two made 18 movies together, and they are  minor gems.
Spencer, a native of Naples whose real name was Carlo Pedersoli, was a big man, standing nearly six-foot-five with girth almost to match.
He played a character ironically named "Bambino" in the Trinity series, the comic-action foil to Hill's title character. In all, Spencer appeared in or voiced over nearly 80 movies and tv titles from 1950 (when he played an Imperial guard in Quo Vadis) until thee years ago.
Before getting into the movie business, Spencer studied the law, and racked up athletic records as an accomplished swimmer.  He chose his marquee name, he said, to honor his favorite beer, Budweiser, and his favorite actor, Spencer Tracy.  Bud Spencer was 86.