Two of the biggest film stars to arrive to our shores from their roots in the Caribbean Island of Puerto Rico are both Oscar winners.
Ferrer was born in 1912, with this imposing moniker — Jose Vincente Ferrer de Otero y Cintron. Wow! He is, in fact, the first Hispanic-American to win an Oscar. He was better known, perhaps, as one of the finest stage actors of the 1940's and 50's, who later had a great career as a character actor.  (Ferrer was also a celebrated stage director.)
"Joe," as he was known to his friends, received his first Oscar nomination in the Best Supporting Actor Category in 1948 when he recreated his stage role of the Dauphin in Joan of Arc, which starred Ingrid Bergman.
Two years later he won as Best Actor for Cyrano de Bergerac. That film, directed by Stanley Kramer, received only ONE nomination. The one for Ferrer's performance. (Yup, that's Ferrer below in costume as that nosy Cyrano, who, incidentally, never actually set foot in the French village of Bergerac.)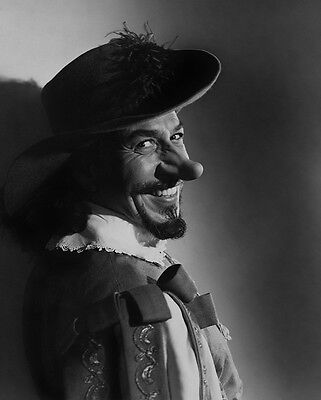 He was nominated for another Oscar for his performance as Henri Toulouse-Lautrec in Moulin Rouge.
Another memorable role was as the defense attorney in The Caine Mutiny. He is memorable as the straight-shooting Navy barrister hurling a glass of bubbly at Fred MacMurray.
One of Ferrer's oddest supporting roles is in Lawrence of Arabia, as the sadistic Turkish Bey who enjoys a brutal lashing of a captive Peter O'Toole.
Ferrer, who died in 1992, was married for 14 years beginning in 1953 to vocalist Rosemary Clooney.
(That's our couple above in happier days.) They had five children including actor Miguel Ferrer, who died in 2017. ( Final trivia: he was George Clooney's cousin.)
Moreno's screen career — as opposed to her many Broadway appearances — is nowhere near as extensive. Her versatility, however is hard to beat.
Born Rosa Dolores Alverio Marcano, she is one of the very few performers to win all four show biz awards — besides the Oscar, an Emmy, Grammy and Tony citations. In films, she is remembered for her roles in 1952's Singing in the Rain and 1956's The King and I in addition, of course, to West Side Story. Her singing, dancing and broad comic turns are exceptionally appealing.
Moreno also created vibes offscreen. A flaming affair with Marlon Brando ended badly, and a fling with Elvis Presley wasn't much better. Elvis, she declared, was not a good lover.