You can't forget that face. You might not put the face and the name together, but you've seen him in dozens of films and tv shows– he appeared in more than 105 to be exact over a quarter century.
Sometimes gruff… sometimes menacing…. sometimes very funny. Always a pleasure.
It didn't quite start that way.
California born Frederick Leonard Clark was initially intrigued by medicine, and studied pre-med at Stanford Univ. Then a chance role in a college play changed things. After a stint at the American Academy of Dramatic Arts he found himself making his Broadway debut in 1938 at the age of 24.
Then, his career went into an enforced hiatus thanks to World War II military demands — first as a Navy pilot and then Third Army service in Europe. After it was all over, Clark pursued a career both as a cold-hearted bad guy and skilled comedian.
He made his mark initially in director Michael Curtiz' 1947 drama, The Unsuspected, playing a police detective. He then went on to participate in a broad range of productions some of which are certifiable classics.
Below are photos of Clark in various character modes. Can you identify the films?
Hint: He plays a fulsome movie producer above in the company of the likes of Gloria Swanson.
Here's Clark confers with James Cagney in this 1949 prison drama. His advice proves dubious.
Clark as a medical professional above defers to his smoothie side in this drama starring Joan Crawford.
That's Clark (above right) in the dubious company of Montgomery Clift in this 1951 drama.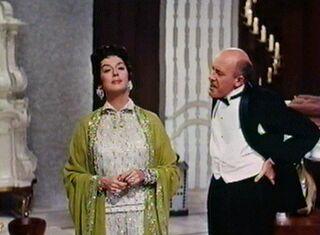 And that's Clark trying to explain something, anything, to Rosalind Russell in this 1958 big screen adaptation of a Broadway musical.
Finally, Clark was superb as Harry Morton in this early Fifties tv series costarring the guy to the right above. (Answers to all inquiries above on Monday.)
Clark piled a lot of work over a short career. He died of liver failure in 1968 at the age of 54.