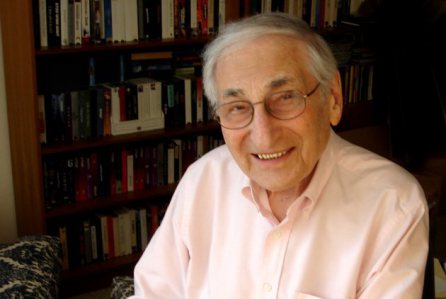 Longstanding friends are hard to come by and harder to lose.
Thus, we suspend our usual coverage today to pay tribute to the passing of one of Classicmoviechat's most devoted friends and supporters, who also happened to have been an unusually influential trade journalist over decades in Hollywood.
Hy Hollinger was not only an insightful journalist and immensely personable, he was a classic movie buff who confessed to us not long ago that Myrna Loy was his favorite (our Sept. 14 Myrna Loy Quiz is dedicated to Hy). To write that we will miss him is a vast understatement.
For details of Hy's life and career, we publish his official obituary below.  Rest in peace, good friend.
———————————————————————————————————-
Hy Hollinger, veteran Hollywood trade journalist — a gentle, wise soul and the antithesis of the pushy reporter — passed away, age 97, on October 7 at the Olympia Medical Center, Los Angeles.
Hy had been retired since 2008 after chronicling show biz history as a journalist and helping shape it when working on the studio/industry side.
In a storied career as a journalist, Hy Hollinger held senior editorial posts at Variety and Daily Variety in two stints for a total of 20 years, from 1953 to 1960 and 1979 to 1992, where he was among the paper's most knowledgeable and unflappable hands. He finished his career at The Hollywood Reporter (1992-2008).
In the course of his long career, Hy also held jobs in publicity at Paramount Pictures and Warner Bros. He had a front-row seat to unfolding Hollywood history while based in New York, Los Angeles and London.
After his first Variety stint Hy joined Paramount but this time as an executive. First he was publicity director of International Telemeter Co., an experimental pay-TV operation. He later became European Production Publicity Director based in London, then advertising-publicity vice-president.
When in film publicity, Hy worked on Paramount's Love Story and other films of the 1960s and 1970s. After a management change at Paramount, he moved to corporate public relations with clients that included the National Basketball Players Assn. and Sagittarius Productions,which was owned by Seagram chief, Edgar Bronfman.
Hollinger leaves many imprints on the modern media/entertainment business from his work in journalism. It can be said that he was a driving force in the creation of the American Film Market, the annual film bazaar for independent producer-distributors..
In the 1970 and 1980s while a journalist at Variety Hollinger reported on the discontent of independent Hollywood film sellers with prices being charged and services provided by the French for the Americans' marketing operations when they set up shop during the annual Cannes Film Festival. These sales companies eventually launched the American Film Market in 1981 in Los Angeles as well as the associated non-profit film trade group now known as the Independent Film & Television Alliance (IFTA).
During the 1980 Cannes Festival, Hollinger broke the story in Variety that the festival jury, chaired by Kirk Douglas, was blind-sided by a decision made unilaterally by festival organizers to elevate a French film to co-winner status. The film was announced as winning the "Grand Prize of the Jury" when actually it had been passed over by the jury.
In the best Variety tradition, despite rubbing elbows with the rich, famous and powerful, Hollinger was not awed by Hollywood glitter and maintained a down-to-earth personality that reflected his roots. Born Herman Hollinger in the Bronx, Hollinger was the son of Jewish immigrants – Max from Rumania and Minnie from Poland. His father was in the fur business and his mother a housewife. Hy was educated at Townsend Harris High School, the City College of New York and the Columbia University School of Journlism.
Hy's first newspaper job from 1932-1935 was at the New York Times, working on Saturdays during high shool as a copy boy and messenger in the classified ad department. While attending Columbia's Journalism School, Hy landed a job as a CBS Radio intern working the 1940 Republican convention… rubbing shoulders with such CBS stars of the era as Robert Trout, John Charles Daly and political analyst Elmer Davis.
During World War II, Hy served mostly overseas from 1942-45 as a sergeant in Armed Forces Radio. Afterwards, he worked for a suburban Philadelphia weekly, then covered sports for the now-defunct New York Morning Telegraph and eventually moved to Warner Bros. as a publicist.
"Hy was particularly adept at getting major studio box-office figures — both foreign and domestic," said former THR business editor Robert Marich. "His contacts on international box office were great and a source of mystery.
"To me, Hy was the best of trade reporters at the time. He was approachable and personable, but not a patsy. He could not be bought. He'd seen it all and was unflappable."
As Hollinger once recalled, he was walking in midtown Manhattan when he had a chance encounter with his former Variety boss Syd Silverman and Variety executive Robert Hawkins. That led to him returning to the weekly in 1979 as an associate editor based in Hollywood, to cover "all aspects of show business with special emphasis on the international scene."
In 2012, Hollinger wrote about an assignment for Warner Bros. when, as a young publicist, he was told to escort Les Brown Orchestra singer Doris Day — who had just signed a contract with the studio — to the New York Daily News building in Manhattan for a photo shoot to publicize her first movie, 1948's Romance on the High Seas. (Hy wrote of this experience for (ClassicMovieChat.com)
"The News photo editor said he needed a Christmas cover shot for the magazine section and sent me off to Brooks Costume to rent a Santa Claus outfit," Hollinger wrote. "Little did I know I would be the fall guy, but there I was as Santa bestowing a gift on Doris Day. That photo was seen by millions. Wonder if it's still in the News archives?"
Hollinger was pre-deceased by his wife of 61 years, actress Gina Collens, who died in 2014. He is survived by his daughter Alicia,who is a digital artist and writer living in Los Angeles.