She might only be remembered for two films. But what films.
Yes, above are George Bailey and Mary Hatch Bailey (Donna Reed and James Stewart), the familial stalwarts of It's A Wonderful Life.
In this quintessential holiday movie — set in the mythical Bedford Falls — the two stars play small town dwellers. Interesting then to note that they actually were small town kids. Stewart grew up in backwater Pennsylvania and Reed was from rural Iowa.
It's been bruited about that Reed was far down the list of choices to play Mary Bailey. That Jean Arthur, Ann Dvorak and Ginger Rogers were successively primed for the part before Reed. Whether or not that's true, we believe that Reed was fated for the role, thank heavens.
When It's A Wonderful Life first came out in 1946, it did not immediately perform well at the box office. Hollywood considered it a flop. In fact, according to director Frank Capra's son, the movie was not designed expressly as a Christmas or holiday picture. At the time, the movie put a bit of a dent dent in Stewart's career.
Obviously, things have changed since then.
And don't forget to check out Donna Reed's superb performance opposite John Wayne in John Ford's excellent, 1949 combat drama about PT boats in the Philippines, They Were Expendable.
Wayne is absolutely dead on as hard bitten Navy lieutenant Rusty Ryan, who falls for a military nurse played by Reed in perhaps her most luminous movie role.
Costarring is Robert Montgomery as Lt. John Brickly. (Montgomery, who really did active service in the military during the War, not only puts on an authoritative portrayal but also is said to have helped out in the film's direction.)
There is a ruefully lyrical appeal to this movie, beautifully photographed.  Reed has rarely looked better. Ditto for Wayne.
As an bonus, we'll add to today's short list Reed's performance as a woman of easy virtue in the 1953 big screen adaptation of From Here To Eternity, the James Jones novel about GI's in Hawaii at the time of Pearl Harbor.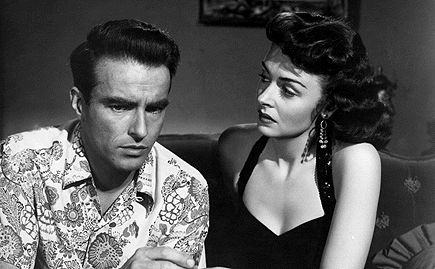 She portrays beleaguered Army enlisted man Montgomery Clift's girlfriend, 'Laurene,' who revealed in the movie her real name late in the game. In the book, she speaks right up in calling herself Alma pretty much from the get-go.
Reed's character in the movie, 'Laurene,' and the other girls were hostesses, although they were clearly good-time girls. In the novel, they were simply whores.
In any event, Reed is superb in the picture, a bit of a stretch from her more wholesome pesence on the big screen and, later, on tv.