Washerwoman, maid, or mother, when she was on screen you noticed.
Thus this brief and informal tribute to yet another of the superb character actresses produced in Hollywood's golden age.
Connie Gilchrest, born in Brooklyn in 1895, came from a theatrical family; her mother Martha Daniels, was a fairly prominent stage actress. Gilchrest was groomed for the stage, and made her debut in London at the age of 16.
Much stage work followed. It wasn't until 1940 that she landed in Hollywood taking on a raft of supporting roles at MGM. Later came a profusion of tv work. The heavy set Gilchrist was never cast as a screen beauty, of course, but she easily mastered the knack of stealing scenes from those who were.
Some of her more familiar films:
Look for her (and Thelma Ritter) upstairs in 1949's A Letter To Three Wives.
And as she turns up in the Thin Man series with Powell and Loy.
And here she is (below) testing perfumes in the 1958 big screen adaptation of Auntie Mame.
And confronting June Allyson in 1949's Little Women.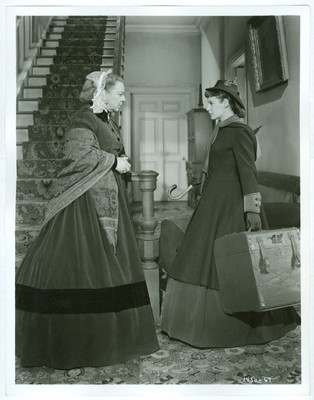 Connie Gilchrist had a long career covering nearly 125 movie and tv credits over a roughly 30-year span. She died at the age of 89 in Santa Fe, New Mexico in 1985. What a character!