Many years ago, Frank was once sitting in a screening room at the Chicago International Film Festival, and was amazed when the Festival's jurors — trusted with adjudicating prizes and awards to select films from all over the globe — walked out en masse just as the opening credits of some, long-forgotten Danish title had just unspooled.
The jury, which included actress Claudia Cardinale, was asked: how can they possibly judge this picture if all they saw were the opening credits?
One juror answered, and Cardinale obviously agreed: "We can tell if it's any good just by the quality of the credits."
Frank, who dutifully sat through the Danish picture (it was indeed lousy), has often thought of that — and now agrees with that terse assessment. If the opening credits stink, so will the picture.
Thank you, Claudia Cardinale.
Although she is misclassified as an Italian sex bomb, Cardinale isn't strictly speaking in the sexpot bombshell mode. She has an endearing ragazza-next-door quality that has served her career exceedingly well.
She was born in 1938 in Tunis, then a French protectorate now known as Tunisia, of a Sicilian father and French mother. Things happened after she won a beauty pageant in Tunis sponsored by the Italian embassy. Producers took notice of "the most beautiful Italian girl in Tunisia" and the early movie roles poured in.
At age 20 she found herself appearing in her first film, 1958's Goha, starring Omar Sharif. By the early Sixties, Cardinale became one of Italy's foremost actresses, costarring Marcello Mastroianni in five pictures, two others directed by Luchino Visconti (The Leopard and Rocco and His Brothers plus Federico Fellini's 8 1/2.
She is probably remembered best by American audiences for her role as the mature woman with a past who practically dominates director Sergio Leone's excellent 1968 western, Once Upon A Time in the West.
Cardinale has a past of her own. She bore a child out of wedlock at age 17, a boy who was raised as her brother. The child was adopted by her one husband — the late producer Franco Cristaldi, who pretty much ran his wife's early career — until the truth came out. The Italian press made much of Cardinale's secret.
Her Hollywood pictures include 1963's The Pink Panther…..
…and 1967's Don't Make Waves, where she shows her comedy skills opposite Tony Curtis…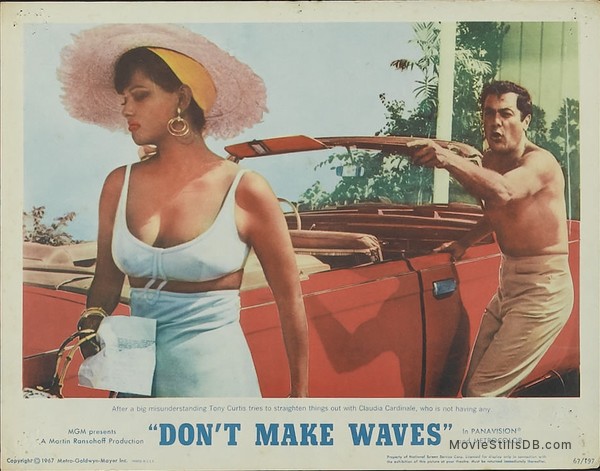 and 1966's The Professionals opposite Burt Lancaster.
Cardinale's film and tv credits near 130. And at the age of 82 she's still working.