His impact on movies is felt to this day. How much did you know about the little tramp?
Ok, let's get to the answers to our Charlie Chaplin Quiz, in which we asked that you identify the titles of his movies pictured below. Here we go:
Question: This 1947 title was created by Chaplin after World War II and reflects something of a personal crisis. What's the title?
1) Answer: Monseur Verdoux. This has been acclaimed as Chaplin's most interesting film. It stars Chaplin as a mild-mannered bank teller turned serial killer after he's fired from his job. The film's dark subject matter (credited to a story by Orson Welles) fit Chaplin's mood fueled by reaction to his political beliefs. He departed the U.S. for Europe in 1952.
2) Question: This 1925 entry finds Chaplin in an unusual setting. Can you name it?
2) Answer: The Gold Rush. This was one of Chaplin's favorite titles. The little tramp takes on a remote Wild West location — and all its attendant hardships — in a longshot try at gold prospecting.
3) Question: This 1931 feature showcases Charlie as the Little Tramp falling blindingly in love. Critics loved the movie. It's title is…….?
3) Answer: City Lights, a silent Chaplin successfully made about two years after the "talkies" were introduced. Below, he falls for a girl (Virginia Cherrill) who is blind.
4) Question: This is Chaplin's final film, one that in 1967 left many critics uninspired. It is also his single outing in color. A motley cast includes Marlon Brando, Sophia Loren and Chaplin's son Sydney. (Chaplin wrote, scored and directed the feature but limited his finale performance to a cameo.)
4) Answer: A Countess From Hong Kong. The picture was roundly panned when it came out despite its strong cast under Chaplin's firm directoral thumb.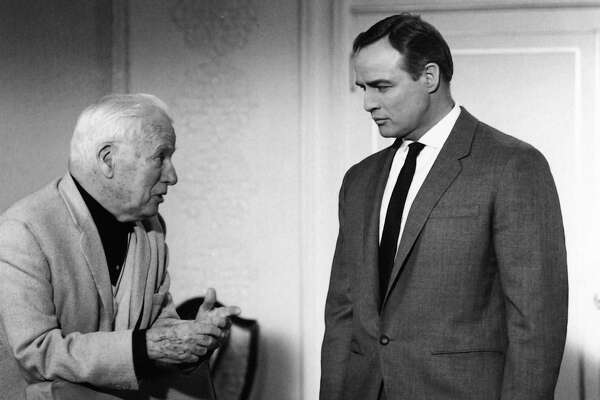 5) Question: This title is one of Chaplin's more memorable, featuring himself as the "Dictator of Tomani." The character, of course, is devilishly inspired by that other World War II dictator. Jack Oakie is on hand as a buffoon posing as a another European strong man. The title is…
5) Answer: 1940's The Great Dictator which shows off Chaplin's skill as a mime. Here he spoofs you know who (his first name is Adolph). Jack Oakie is in the house, sending up Benito Mussolini.