Yup, that's Tom Conway (above), George Sanders' older brother by two years.
Conway was dubbed "the nice George Sanders." (He was born Thomas Charles Sanders, but changed his surname. The two brothers are pictured below.)
Conway had a low-key but decent career, and is best remembered for his appearances in 1942's Cat People and 1943's I Walked With A Zombie, two Val Lewton productions not to be missed. Sanders, of course, is remember for many films including — All About Eve.
Now to Brother No. 2:
He's Scott Brady, the younger brother — by five years — of tough guy Lawrence Tierney. (See below.)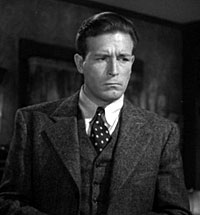 Born Jerry Tierney,  Scott Brady changed his name and, like Lawrence, specialized in tough guy roles.  His most famous film is Johnny Guitar.
Brady worked mostly in TV.  He too had several run ins with the law and was quite a lady's man as well, involved with Gwen Vernon and Dorothy Malone, among others.
For his part, Lawrence Tierney had a very long career first as a leading man (his breakout feature was the biography, Dillinger) and later as a character actor (Quentin Tarantino's Reservoir Dogs.)
Despite his roles on screen and television he is probably best remembered for his offscreen arrests.  He was an alcoholic and a brawler and was often in the news, once for being stabbed in a bar fight, often for taking on other brawlers and the police.  He served time in prison. One critic cal,led him "not so much an actor as a frightening force of nature."
Now to Brother No. 3:
He's Steve Forrest, the much younger brother of Dana Andrews (see below), who came to Hollywood in the early 40s and was a bit player under his own name, William Forrest Andrews. He appears in a small part in 1943's Crash Dive, a war film which starred Tyrone Power, Anne Baxter and Dana.
William served in World War II, and on his return changed his name to Steve Forrest and tried his luck in Hollywood again.
He didn't hit his stride until the 50s when he scored in So Big, opposite Jane Wyman, and Bedeviled, (pictured Friday) opposite Anne Baxter.
Steve Forrest died in 2013 at the age of 87.  Among his last film appearance was a cameo as a truck driver in Columbia's 2003's S.W.A.T. a crime thriller based on the TV series. That film grossed over $207 million worldwide.  Nice to end on a high.
Dana Andrews, remembered for his excellent performances in many movies including 1944's Laura, battled alcoholism, finally conquering it, and serving as president of the The Screen Actor's Guild for two years. He even did public service announcements about beating alcohol addiction.  He died a few weeks shy of his 84th birthday in December 1992.