How much did you know about Joan's early years in Tinseltown?
Here she is in all her blonde splendor.
Did you know that she was a natural blonde? It was the later change to brunette that called in the consmeticians.
Bennett's career like Caesar's Gaul is made up of largely three parts: blond ingenue, brunette femme fatale, and warm-hearted maternal figure (especially on tv).
As a blond she appeared in a wide range of pictures (as noted in our Quiz questions) including the 1930 musical Puttin' on the Ritz and an early Warners' edition of Moby Dick with John Barrymore. She got top billing with Spencer Tracy in 1932's She Wanted A Millionaire. In the same year she played a waitress fast with a wisecrack in Me and My Gal.
Ok, let's get to the answers to our Bennett-as-blond Quiz. We have provided illustrations from some of her blond period pictures. Let's see if you identified them.
Question: In this 1936 outing, Bennett costars with Cary Grant. Joan plays a brassy manicurist.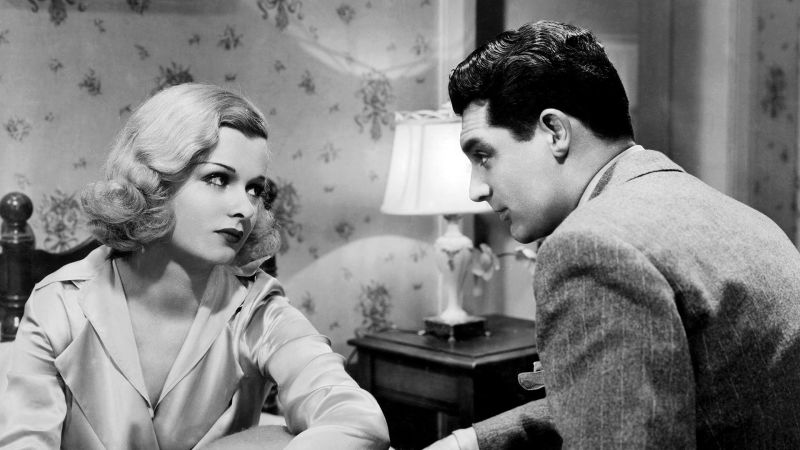 Answer: Big Brown Eyes.
Question: Joan portrays a mostly wholesome young woman with Katharine Hepburn in this 1933 pre-feminist outing directed by George Cukor.
Answer: Little Women
Question: Joan's costars in this 1935 feature are Joel McCrea, Charles Boyer and Claudette Colbert. It's a drama directed by Gregory La Cava set in a psychiatric hospital.
Answer: Private Worlds.
Question: Joan turns up in this 1932 western costarring Charles Farrell and Ralph Bellamy. Can you provide the title?
Answer: Wild Girl.
Question: In this musical comedy released in 1937, Joan takes a stylish turn with costar Warner Baxter. Note that this one came out about a year before the big hair color change. The title is…
Answer: Vogues of 1938.