Well, they're still around — in family name and in person.
First, how much did you know about the three Barrymores, Lionel, Ethel and John, definitely not still around?
Still with us, of course, is actress-producer Drew Barrymore (pictured above left). That's grandpa John in the middle and Drew's father, John Drew Barrymore  (the son of John senior and third wife, Dolores Costello; Jr. died in 2004).
Of the original three Barrymores, John has proved on a personal level to be the most interesting.
Lionel will forever be remembered as Mr. Potter, that nasty, flint-edged banker (below, seated) who crosses swords with idealistic James Stewart in 1946's It's A Wonderful Life.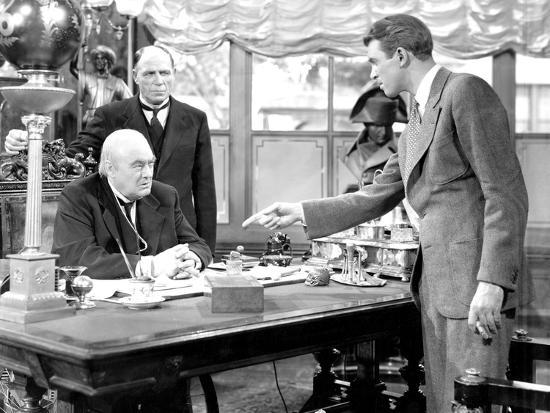 Ethel was an Academy Award winner who prospered in films made by great directors. Here she is (below) in Alfred Hitchcock's 1947 courtroom drama, The Paradine Case. (Yup, that's Charles Laughton on the right, looking distressed.)
But John was the image of a powerful and often hammy actor drinking himself to death before our very eyes. (He died in 1942 at age 60 of cirrhosis of the liver.) His best work, by common consensus, was Howard Hawks 1934 comedy Twentieth Century with Carole Lombard.
He is a ham (playing a fulsome theatrical actor/manager) but a sceptic , incredulous of romance yet hopelessly enthralled by it, writes British critic David Thomson. The so-labelled "great profile" is superb in this picture, perhaps the one film of his that remains a true classic.
Ok, on to the answers to our The Barrymores Quiz;
Question: Although each was a star in his or her own right, the Barrymores steadfastly avoided appearing together in the same film. a) True; or b) False
Answer:  b) False.  The Barrymores appeared together in 1917's National Red Cross Pageant (a lost film) and in 1932's Rasputin and the Empress.
Question: Lionel ascribed the decline of brother John's career to a) his heavy drinking; b) his lack of nerve; c) his obsession with his classic facial profile; or d) his mishandling of totem pole from Alaska.
Answer: Believe it or not, the answer is (d).  Director John Huston (who helmed Lionel in Key Largo) wrote in his memoirs that the oldest of the Barrymore siblings blamed his brother's sad finish to the fact that John once brought back a totem pole from an Alaskan holiday and put it up in his garden. Up to that point John could do no wrong. But after that his luck turned. Lionel attributed this entirely to the totem pole. John had handled this holy object casually and thereby angered some Eskimo god.
Question: Greta Garbo uttered her signature "I Want To Be Alone" remark to John Barrymore in which one of the following movies. a) Arsene Lupin; b) Rasputin and the Empress; c) Reunion in Vienna; or d) Grand Hotel.
Answer:  d) 1932's Grand Hotel.
Question: Ethel Barrymore won her Oscar for her supporting role in which one of the following? (Who was her costar?) a) The Paradine Case; b) Pinky; c) The Spiral Staircase; or d) None But The Lonely Heart.
Answer: d) 1944's None But The Lonely Heart.
Question: Lionel Barrymore played the first Judge Hardy in the first Andy Hardy movie. Can that be true? a) Yes; or b) No.
Answer: a) Yes. It was in 1937's A Family Affair.