Although Glenn Close has overtaken Deborah Kerr (above) as the actress with the most Oscar nominations with NO wins (Close has seven, four in the Best Supporting Actress category), all of Kerr's six Academy Award nominations were in the Best Actress category.
Kerr's sole Oscar win was an honorary one, awarded in 1994 citing her "impeccable grace and beauty."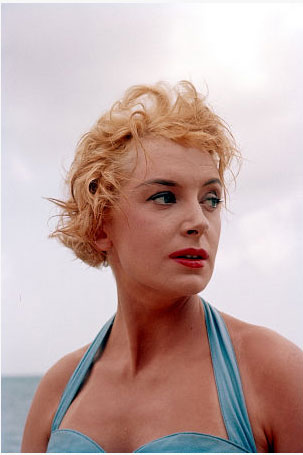 But make no mistake, one of Great Britain's most successful exports to Hollywood, could turn on the bigscreen heat when called for. This "English rose," who figured prominently in some of the most acclaimed films of the Fifties and early Sixties, was equally at home playing….
The whore……
….and the nun.
One of her Oscar nominations was for playing a hard drinking officer's wife with a past of multiple sexual liaisons with enlisted men. The movie is 1953's From Here to Eternity, which ranks as one of the best Book-2-Movies evolutions Hollywood ever produced. Despite its staggering 650 pages, the book translates beautifully to the screen.
The essence of the James Jones novel was captured perfectly by director Fred Zinnemann, and the famous scene of Burt Lancaster and Kerr in passionate embrace on the beach (see the B&W photo above) has long since been established as a Hollywood pictorial icon.
Let's see about Kerr's multiple Oscar also-rans..
To Joe's mind the most unusual and interesting of these performances is as Spencer Tracy's wife in 1949's Edward, My Son. If you haven't seen this old classic, try and do so.
Then there is perhaps Kerr's most familiar role in the 1956 big screen version of the Richard Rodgers and Oscar Hammerstein musical, The King and I. She plays the widowed governess who tries — with mixed success — to tutor the children of a 19th century monarch, King Mongut (Yul Brynner) of Siam (now Thailand).
One of Kerr's most interesting costars was none other than Robert Mitchum (see below). Talk about contrasts. She's also in this picture sporting a nun's outfit again. The movie is 1957's Heaven Knows, Mr. Allison. (The other photo of Kerr as a nun above stems from her role in 1947's Black Narcissus.)
Then, a challenging turn in the 1958 film version of playright Terrance Rattigan's Separate Tables. Kerr is in good company here. Her costars are David Niven, Burt Lancaster, Wendy Hiller — and Rita Hayworth (see below).
Here's Rita…….
Finally, Kerr is reunited with Mitchum in 1960's The Sundowners. It was coproduced and directed by Fred Zinnemann, who led Kerr through her steamy role in From Here To Eternity. The picture is a species of western about a family of sheepherders in the Australian outback.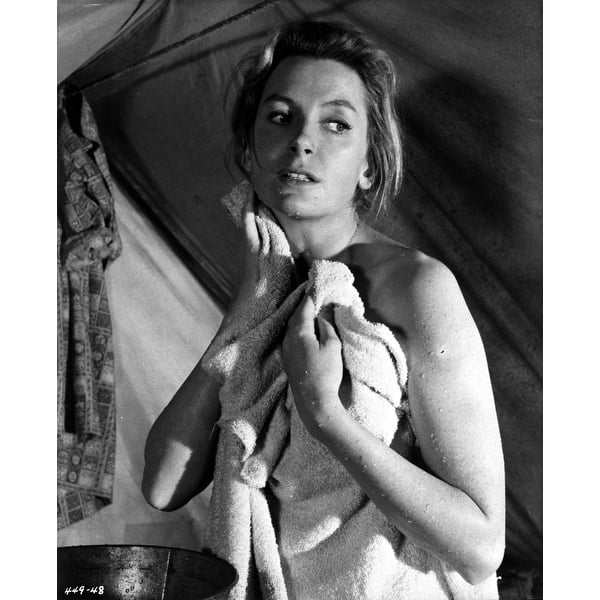 NOTE: We promised you answers to yesterday's Katharine Hepburn Quizlet, and here the are.
Pictured from the top down are 1933's Morning Glory; 1967's Guess Whose Coming To Dinner; 1968's The Lion in Winter; and 1981's On Golden Pond.
Finally, there's a shot of an anguished Hepburn as Mary Tyrone in director Sidney Lumet's superb 1962 adaptation of Eugene O'Neill's Long Days Journey Into Night. Perhaps Hepburn's best performance ever. See this picture.