Let's start with the most famous.
Was she? or Wasn't she? Well, she WAS. The most famous child star of all time — so far.
Shirley Temple.
She's had a drink named for her. Dolls were made in her image. Her name is synonymous with child star. Her DVDs are still being pitched on cable tv infomercials.
What explains Shirley Temple's amazing durability? Even Frank, who has little use for child actors of any stripe, grudgingly finds himself liking her — at least a little.
The height of her fame, from 1934 to 1938, was dead in the middle of the Great Depression when movie audiences craved optimism from any source including a child actress sporting dimpled cheeks, twinkling eyes and golden curls (56 of them, according to legend).
"It is a sidelong proof of how far the Depression had inroaded confidence in the 1930s that it took Shirley Temple to reassure so many, writes author-critic David Thomson. (She) was a supreme, technical actress unequalled for the amount of sentiment she could dispense without disturbing gullability.
Novelist Graham Greene once speculated in a magazine article that Shirley was an adult impersonating a child. (The magazine carrying the piece got sued.) But even the most skeptical concede, as does Thomson, that she was a phenomenon who only had to be observed for an audience to be held…There was an elfin perfection about her.
Shirley was a California girl, born in Santa Monica in 1928. But age 3, driven by yet another pushy stage mother, she was already before the cameras. Fox put her under contract in 1934 when the studio starred her in director Alexander Hall's Little Miss Marker, a seminal film in her career which helped make her a star.
Fox threw the resources of the entire studio behind her in a succession of hits including Bright Eyes, 1935's The Little Colonel and Curly Top, 1936's Captain January, Poor Little Rich Girl and Dimples. None other than John Ford stepped in to direct 1937's Wee Willie Winkie while Alan Dwan in 1938 directed Rebecca of Sunnybrook Farm.
After Bright Eyes, Shirley was presented with a special Academy Award for her "outstanding contribution to screen entertainment." (We suspect the citation was a Zanuck-engineered award.) She also had performed a tap dancing routine with the great Bill "Bojangles" Robinson.
But things at Fox began to sour in the late Thirties, exacerbated by mogul Darryl Zanuck's decision NOT to loan her to MGM to appear in The Wizard of Oz.
By the early Forties, Shirley had decamped to MGM, and then to producer David Selznick, who noted that even at age of 15 — perilous territory for a child star — Shirley drew more fan mail than Jennifer Jones, Ingrid Bergman or Joan Fontaine.
But adolescence finally took its toll. As the mid-Forties approached, her screen career was heading south in a hurry. Curiously, as an ingenue, Temple appeared in John Ford's 1948 Western, Fort Apache, opposite actor John Agar, Shirley's first husband.
The marriage to Agar ended a year later and by 1950, Shirley was safely married (until his death in 2005) to San Francisco businessman Charles Black, who confessed that he had never — not even once — seen any of her movies.
Shirley Temple Black in her later years got involved in politics as a Republican, and served ambassadorships in Ghana and the then Czechoslovakia. She won praise for going public with her breast cancer battle, and subsequent mastectomy.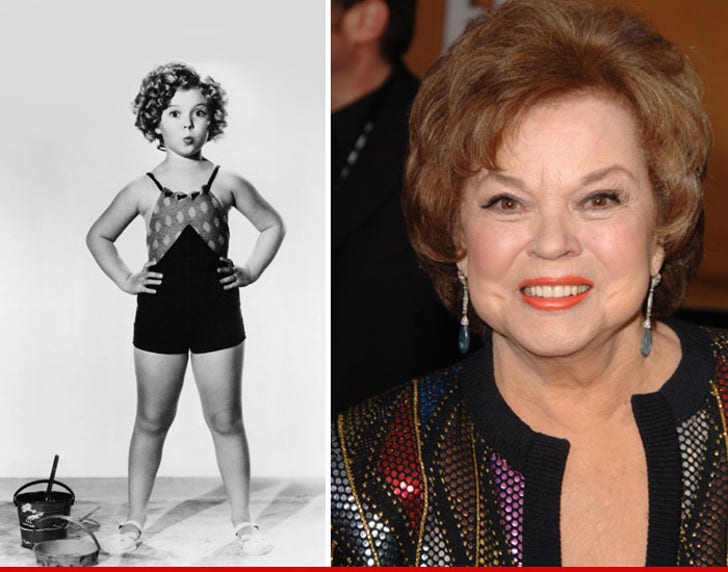 As the bright, bouncy, cheerful child star, Shirley inspired a vast outpouring of merchandise sales — dolls, mugs, hats, dresses, the works. In different forms and degrees, that Temple-inspired merchandise mania continues today. Plus ca change…..